8 Books to Read (Inside) When the Blizzard Hits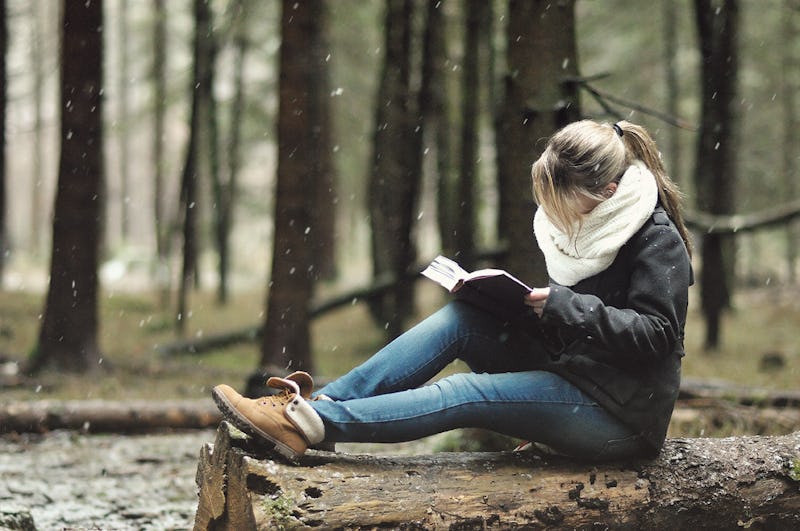 To sum up New York City Mayor Bill de Blasio's Sunday press conference: Winter is coming. New York and New England, as we all know from every single post on social media this week, are set to get hit by one of the biggest snowstorms in the area's history. We're talking more than two feet. While some people still have to head to work (and for you, I am sorry), many of us are prepared to hunker down in our homes with our Costco-bought red wine bulk packages. (That was the snowpocalypse priority grocery item, right?)
And let's face it: We're going to lose power. Let's just mentally prepare for that ahead of time. We'll be stuck in our tiny apartments without the glory of a Friends Netflix marathon. So what we're all going to need is books — and flashlights, don't forget those. Instead of reading about summer vacation, let's double down on winter and find the snowiest, coldest stories we can so at least the characters will understand our pain.
These eight young adult and adult fiction books are set in Alaska, Antarctica, Russia, and various other frigid and harsh climates, so you can cozy up with your blankets and fuzziest socks right by the window and experience the winter along with them.
I'm pretty sure there's a rule that you have to read Tolstoy in the dead of winter. And if you haven't yet read Anna Karenina , being cooped up during a huge winter storm is probably the perfect time to do it. If there's a winter that's worse than the one you're experiencing, it's a Russian one. But the romance will keep things a bit steamy for you so you don't totally freeze over.
Shiver by Maggie Stiefvater
Maggie Stiefvater's snowy fairy tale-esque story is set in wintertime amid the frozen forest, where Grace watches the pack of wolves behind her house. One of them, the one with the yellow eyes, is Sam, who transforms into a wolf when the cold hits. Luckily, if you tear through Shiver , there are the next two book in her The Wolves of Mercy Falls series, Linger and Forever, to cozy up with while the storm rages.
Speaking of fairy tales, Eowyn Ivey transports a classic Russian one to the 1920a Alaskan wilderness (but don't be fooled into thinking you'll know how it ends). It's an enchanting story of a couple who build a child out of snow, but it completely and utterly evokes both the beauty and harshness of an Alaskan winter, which you can feel a bit of if you look out your window this week.
Blankets by Craig Thompson
This first-love story told in graphic novel memoir form is set against a blustery, isolated Wisconsin winter. It follows Thompson and his brother, who were born to extremely pious parents, and how one misfit girl is able to pull Thompson from from the pain of adolescence into adulthood. And, my goodness, the stunning black-and-white drawings will have you forgetting the annoyance of snow and only see its beauty.
Sure, the power may be out and you're running dangerously low on your red wine stockpile, but at least you haven't crash landed in Antarctica. The Big Bang Symphony tells the story of three women "on the Ice," as they call it, in Antarctica, who are all there for different reasons, whether it's art or science or just to get away. And the harsh beauty of the Ice is the perfect backdrop for experiences in love and life. The book was a Lambda Literary Awards finalist and Foreward Magazine's Gay/Lesbian Fiction Book of the Year.
Frozen by Melissa de la Cruz and Michael Johnston
This week is may seem like the whole universe is covered in snow, but in the husband-wife author's book Frozen , it really is. Even New Vegas, once a desert wonderland, is now layered in a thick coat of ice. But like you will be after three days cooped in your house, a young blackjack dealer named Natasha dreams of escaping to "The Blue," a mythical land where the sun still shines.
Margaret Atwood interconnected short stories all have this icy cold undercurrent running through them. There's "Alphinland," which has a widowed writer walking through a snowstorm at night, guided by the voice of her late husband. "Stone Mattress," the titular story, is set in the Arctic where a crime that took place long, long ago is avenged. And Atwood's funny, mischievous, and even a little sinister stories are the perfect match for your evening in watching the snow.
There's friendship, betrayal, mysteries, and yes, even ghosts, all wrapped up and bound with snow in The Vanishing Season , set in the remote, wintry own of Gill Creek. The story of three friends who survive harsh winters in this small town is set against a ghostly narrative that jumps in and out of the story, sending a sense of dreamy unease through all readers.
Images: Dennis' Photography/Flickr; Giphy