This is Why Lisa R. Makes 'RHOBH' Worth Watching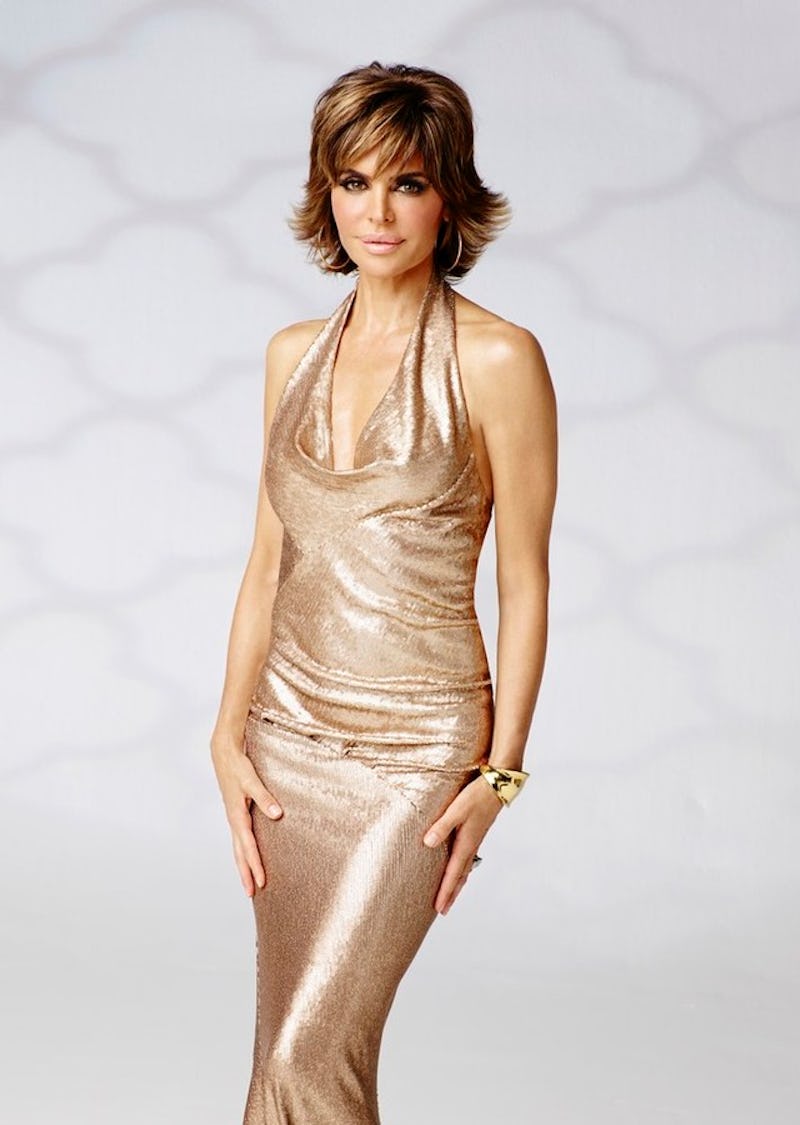 When someone new joins the cast of a Real Housewives franchise, you should always be skeptical. We've seen the good (RHONJ's Melissa Gorga), the bad (RHOBH's Carlton Gebbia), and the twirly (RHOA's Kenya Moore). However, I've never felt as good about a new Housewife as I do about The Real Housewives of Beverly Hills newbie Lisa Rinna.
Lisa joined the Season 5 cast of RHOBH along with fellow soap star Eileen Davidson. Though it seemed like Lisa's addition to the show was just stunt casting since she's one of the more famous women to ever have the distinction of being a "Real Housewife" — and let's be real, it kind of was — she has proven to be worth her weight in hairspray for all of the levity and actual honesty she brings to the show. It's hard to believe, I know.
I always thought the great thing about RHOBH was the cast's ability to be as fun as they are fabulous. Unfortunately, with all of the drama — not the catty drama that we love and come to expect from the Housewives but the dark, too-real drama that leaves a bad taste in your mouth — these past couple of seasons, it was getting hard to watch RHOBH. However, Lisa has injected that much-needed delight back into the show, and I thank her for that.
Still not convinced? Here are five more reasons why watching Lisa on RHOBH is everything.
1. She's Delightfully Over the Top
We all know Lisa has been a soap star for many years, so she already had the training necessary to be a successful reality TV star. She's dramatic, expressive, and constantly kooky, which is a winning combination for this line of work. You never know what Lisa is going to say next, but you know it's going to be entertaining.
2. She Makes Lisa Vanderpump Fun Again
When you first heard that Lisa R. was joining the cast of RHOBH, your first thought might have been about Lisa V. and how she would deal with sharing her name with another Housewife. Little did we know that the two Lisas are actually chums outside of RHOBH, and they've been two of the closer cast members this season. It's almost as if Lisa R. helped bring back the lovely Lisa V. we first met and fell in love with during Season 1. After how disastrous Season 4 was for Lisa V. and some doubt that she would return for Season 5, the Lisa V. we saw on screen was cold, depressed, and bitter. Whether it's discussing the merits of Brazilian waxes or long nightgowns, these two Housewives are great alone, but so much better when they're together.
3. She's Real
Yes, I know. Just because it's a reality TV show doesn't mean it's "real." But Lisa just seems so genuine on the show, I'd like to believe that's how she behaves in real life. In a business full of phonies, Lisa is a refreshing glass of down-to-earth-ade. She admits that she'll take any gig — no matter how embarrassing — in order to make a quick buck. She's not afraid to let Brandi Glanville have it. She even called Kim Richards "fucked up," and she barely knows the girl. Lisa is like Brandi in that she has no filter and says whatever she is thinking, but it somehow doesn't come off as vile so much as wonderfully entertaining when it comes from Lisa.
4. Her Marriage Is Fun To Watch
Unlike many reality TV couples, Lisa actually seems to be in a healthy and thriving relationship with her longtime husband actor Harry Hamlin. This isn't their first reality TV rodeo as a couple, so maybe they've worked out all the kinks by now. From the second we met Harry on RHOBH, he was quiet, reserved, and a no-nonsense kind of guy, basically the complete opposite of Lisa. That's probably why they've been able to make it work for more than 17 years. It also probably has something to do with the fact that Harry doesn't try to steal the spotlight from Lisa on her very own show. Plus, how can you not love a guy that takes care of catching those pesky frogs in your mansion? Harry's a keeper.
5. Her Life Isn't Always Glamorous
Lisa isn't only great at bringing the laughs on RHOBH; she's a big part of the heart of the show, too. OK, that's not really that hard among this crew, but that doesn't mean Lisa is any less deserving of some recognition. A few weeks ago, Lisa got a really prominent role in an episode of RHOBH when she and her daughters visited her hometown of Medford, Ore. Going home again is an emotional experience for anyone, but seeing Lisa deal with the reality of her parents' deteriorating health was heartbreaking. The fact that she chose to share that intimate moment with us made her more than just a Housewife that entertains, but someone you can relate to and actually care for.
Now that Lisa is in our lives, I can't see RHOBH without her.
Images: Michael Larsen/Bravo; realitytvgifs (2), sonastyandsorude/Tumblr