Miami Girl Stops by SUR on 'Vanderpump Rules'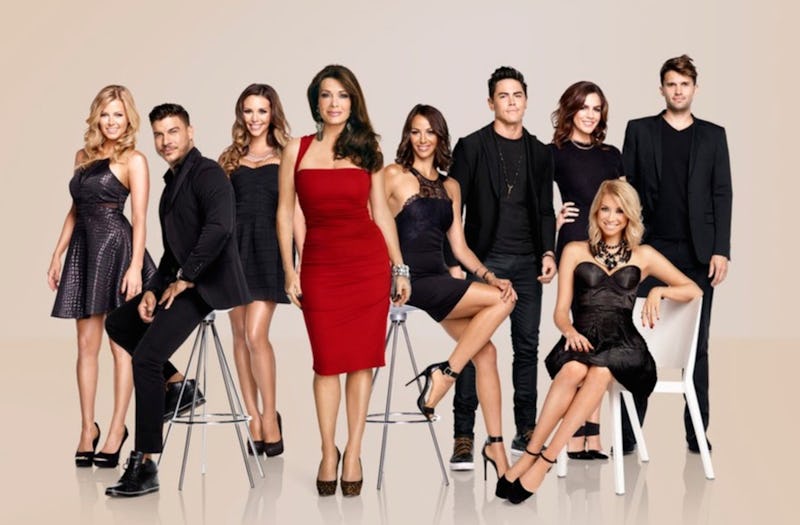 So, last Monday's Vanderpump Rules was, dare I say it, not the greatest episode of the season. But that's OK. That sort of thing is bound to happen to even the best of the best TV programs. Can't always pitch a perfect game. This Monday night's episode of Vanderpump Rules, however? Oh, we are BACK, baby. Monday night's ep was what every other reality TV show should strive to be like. Just how good was it? Well, I'd been fighting a cold all day, but by the end of the hour of Vanderpower, my sinuses were totally clear. I stopped sneezing. My fever was gone. Vanderpump Rules cured my cold.
What was it about the episode that cured what ailed me, exactly? Uh, duh, it was the highly anticipated arrival of Annemarie, aka Miami Girl, aka the woman Tom Sandoval allegedly hooked up with while yukking it up in South Beach. I am too emotionally wiped to summarize what went down during Monday's ep, but I can handle Copy+Paste. Here are the notes I took while the havoc unfolded:
"Do you have Sauvignon Blanc by the glass?"
Annemarie just said she thinks Tom Sandoval is still in love with Kristen. Kristen's crying. Welp, Team KristenAndAnnemarie is a go.
Annemarie is at SUR. My chest is tightening up.
Tom Sandoval looks like he saw a ghost.
ANNEMARIE ORDERED A COSMO AND TOM SANDOVAL LOOKS LIKE HE'S GOING TO EXPLODE.
Tom Sandoval's trying so hard to control his face.
Tom Sandoval gave up on the Cosmo in the middle of making the Cosmo. The Cosmo proved to be too much.
Tom Sandoval and Ariana just straight up bailed on their bartending duties.
Tom Sandoval and Ariana are literally scampering away from SUR in opposite directions.
ANNEMARIE, KRISTEN, AND RACHEL ARE LITERALLY CHASING ARIANA.
ANNEMARIE IS RUNNING DOWN THE STREET IN BROAD DAYLIGHT WITH A COSMO IN HER HAND.
I'm so glad Annemarie has yet to abandon the Cosmo.
ANNEMARIE IS FEARLESS.
LOOK AT THAT COSMO GLISTENING IN THE SUN.
Tom Sandoval and Ariana just escaped via escape Uber.
I REPEAT: THEY ESCAPED VIA ESCAPE UBER.
THIS SHOW IS PERFECT.
I respect Vail's attempt at trying to stop the fight. Dare I say it was... VAILiant?
Scheana just screeched "LISTEN TO ME" at Kristen and I can't remember the last time I blinked.
Scheana's wedding is a week away? Can't wait.
My eyes are burning but I can't let myself blink. Not yet. I can't miss a thing.
Kristen just yelled at Manager Diana. Manager Diana is way patient.
Everyone standing on the SUR patio is screaming at each other. There's lots of crying. I'm exhausted.
I don't know what's happening anymore. I've stopped trying to follow the argument.
The SUR patrons can't stop staring at all of the screaming and crying. I don't blame them.
I wish I was at SUR that day.*
"Manageress"
Holy crap, is that her?
HOLY CRAP. It's her. She's returned to SUR.
Annemarie is back. Annemarie just stepped out from an actual shadow.
Tom Sandoval can run to an escape Uber, but he can't hide.
Annemarie just yelled "WE HAD SEX" at Tom Sandoval at least 45 times.
My hands are numb. THIS IS WHAT DREAMS ARE MADE OF:
ANNEMARIE IS LITERALLY YELLING ABOUT TOM SANDOVAL'S GENITALS AS SHE'S BEING ESCORTED OUT OF SUR BY A SECURITY GUARD.
I feel so alive.
Beautiful. Just beautiful.
*When Lisa told Tom Sandoval that patrons go to SUR for the food and the cocktails, and not "to see who's screwing who in a ringside match on the patio," I felt my face tingle. I hate to disagree with Lisa Vanderpump, but all I want is to see a ringside match on the SUR patio. Well, that and a plate of SUR's deep fried goat cheese balls. Those things are BOMB.
Images: Tommy Garcia/Bravo; sh*tinternet/tumblr