First Look at Kristen Bell on 'Parks and Rec'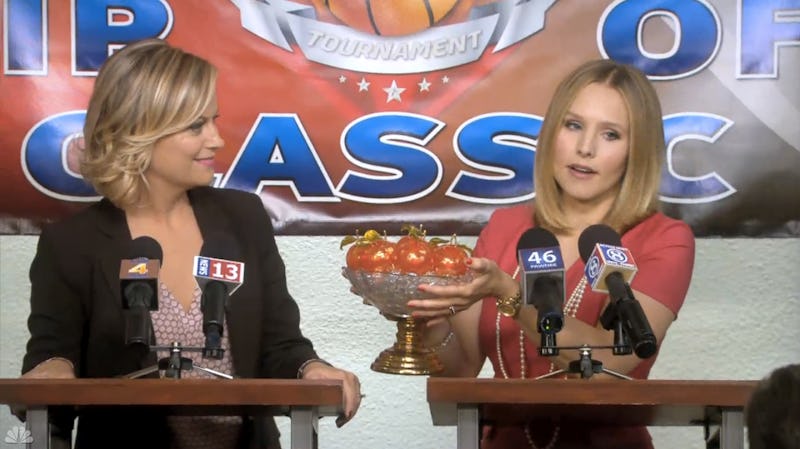 Park-y Down and Recreation. Parks and Party Down, Parks and Rec and Party. Oh, whichever way you choose to slice and dice such a pairing, there's no getting around this glorious factual statement: Kristen Bell (a.k.a. Veronica Mars a.k.a. Everyone's Favorite Sloth and Dax Lover) will be on Thursday night's episode of Parks and Recreation . So will Adam Scott, who was on Party Down with Bell! Too bad he left Los Angeles cater-waiter life for Pawnee, Indiana, huh? (Oh wait, woops, that might be awkward). Oh yeah and Amy Poehler's here, too, because duh. The gang's all here and we're all real excited because funny people being funny on TV is just the best, right? Right!
The two funniest, blondest, tiniest, scrappiest, most wonderful of beings will battle it out in only the most appropriate storyline arc possible: the Eagleton versus Pawnee rivalry. Blood will be shed (probably not), egos will be bruised (most likely), and only one will come out alive (maybe, possibly, hypothetically, but also probably no). It's a battle royale of elephantine proportions and no that's not even a fat joke about Pawnee. (The show does plenty of that on its own without my help).
So, yeah. If you thought your favorite show on television couldn't get any better: clearly think again.