'Parks & Rec' Had a Huge Impact on the World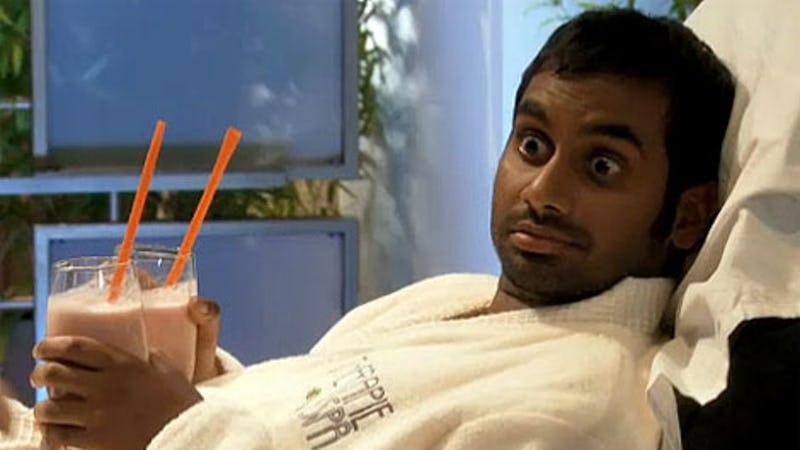 Today, Tuesday, January, 27, is a very important day. No, it's not because of the blizzard-that-almost-was, or even the fact that it's the first time you can start redeeming your free Chipotle — it's because tonight, at 8 p.m, is when Parks and Rec will celebrate "Treat Yo Self" for the second time since the iconic tradition began. Of course, in the Parks world of 2017, it's actually the sixth anniversary of the holiday, but for viewers of the show, we've only had the pleasure of seeing it happen once so far — but thankfully, in Tuesday night's episode, we'll get to see Tom and Donna celebrate "the best day of the year" for a final, epic time.
What's in store for the best friends' celebration? Who knows — shopping, massages, spontaneous vacations and more are all fair game for the duo on this special day, and nothing, not even a sour-faced Ben, can stand in their way. What is certain, though, is that "Treat Yo Self," just like so many other gems Parks and Rec introduced over its seven seasons, has become almost as important a part of pop culture as the show itself. Don't believe me? Just take a look at the influence these Parks' creations have had on the world:
Treat Yo Self
Origin: A 2011 episode where Tom explained how he and Donna spent one day a year treating themselves to everything they wanted: clothes, shoes, mimosas, fine leather goods and more.
Impact: Say "treat yo self" to a crowd of fans and non-fans alike and expect cheers, whoops, and the immediate emptying of bank accounts. Everyone knows Treat Yo Self.
Ron Swanson
Origin: Ron (Nick Offerman) has been on the show since its premiere, but his character — the meat-loving, government-hating, gruff-faced woodworker we all know and love — wasn't fully developed until the start of season 2.
Impact: He's the breakout character of the show, with countless Tumblrs and tributes honoring his legacy. He's also helped Offerman find success with his non-show endeavors, including a Ron-like book, Paddle Your Own Canoe , and a woodworking workshop that's definitely seen a spike in sales since Ron was introduced to the world. The biggest sign of his influence, though? A Ben & Jerry's flavor called "All the Bacon & Eggs You Have," that, while sadly fake, was so popular that the ice cream makers themselves had to chime in with their support.
"Literally" (Pronounced as "Litch-rully" and Said Very Often)
Origin: Although Rob Lowe says he can't pinpoint a specific moment, it was probably at some point during season 3.
Impact: There's no question that Chris Traeger's love of the word helped "literally" change its dictionary definition. The guy sprints 10 miles at lunch for "light exercise;" altering the meaning of a word is literally nothing for him.
Leslie Knope's Work Ethic
Origin: The very first episode.
Impact: Like many Parks characters, Leslie has become a TV icon, but it's her optimism and motivation, specifically, that's had the biggest impact. "Be the Leslie Knope of whatever you do" isn't just damn good advice, it's a bona-fide mantra for aspiring badasses everywhere.
Chris Pratt
Origin: The early '00s, but it wasn't until Parks that the actor truly became Chris Pratt, comedic genius/movie-star-in-the-making.
Impact: Of all the gifts that Parks gave the world, Pratt might just be the greatest. The show's secret weapon has become a giant movie star/sex symbol/comedic icon this past year, and he wouldn't have even been considered for the roles if it wasn't for his time on the series showing off his many talents. From Parks fans everywhere to the rest of the world: you're very welcome, but remember, he was ours first.
Image: Giphy (2); Gifheaven/Tumblr (2); NBC (2); Leslieknopelifecoach/Tumblr