How To Rock J's As Well As Miley Cyrus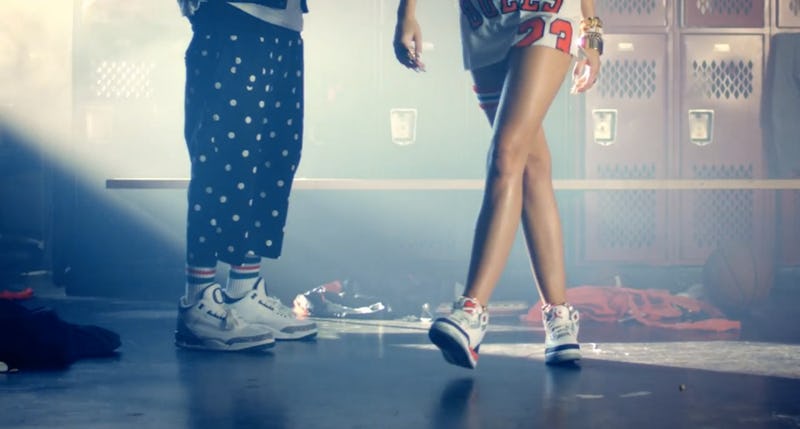 Love or hate her music/style/twerking/haircut/perpetual red lipstick, Miley Cyrus looks great in her new music video for #23. It takes some serious confidence to pull off a Bulls-themed hot pants/bikini top combo — in heels, smoking a cigarette in the girls' bathroom, nonetheless — but Miley manages, helped along, no doubt, by the real fashion star of "#23": J's.
Let's back it up, like we don't give a —: Maybe you thought "#23" was just an obnoxious hashtag symbolizing the age Miley will be in three years, but the song is actually an homage to Michael Jordan (number 23, baby), and his shoes of choice, the Air Jordan Sneaker (aka "J's"). According to legend, the original Air Jordan 1 was banned from basketball courts since the color scheme didn't fit with league rules. Jordan wore them anyway, and Nike paid a $5,000 fine each time. Or so the story goes.
In the "#23" video, Miley pairs a traditionally-colored white/red/black pair with a Bulls-themed minidress (and garter):
In another scene, she's perched on top of a basketball hoop, spinning a glittery silver basketball and sporting a pair of Wolf Greys:
Of course, everyone else has their J's on, too:
Side note: Miley also wears a pair of glitter Birkenstocks that we kind of need right now:
But that's beside the point. How does a regular person (okay, girl) wear J's without looking like a freak mashup of Juicy J and Miss Miley (aaaaah!)? Does it require head-to-toe Bulls merch? That elusive "swagger" that so many young pop stars claim for their own? A crowd of backup-dancing cheerleaders?
1. Pick your poison. There are hundreds and hundreds of types of Air Jordans out there, so start with this simple history of Air Jordans I-VII. Or, if you're feeling a little more investigative, Complex attempted to put together a list of the 100 Best Air Jordans of All Time.
2. Pick your bottoms. Not hot pants! Just don't. Short-shorts are allowed. Skinny jeans are a natural pairing with this chunky shoe; maybe even grab a pair of jeggings, if that's still a thing. Stay away from anything too baggy. J's look kind of cheesy with dresses, but if that's your thing, then make it work.
3. Cuff your jeans. It looks cool. Here's how Ciara does it.
4. Which direction are you headed with that top? Are you going to be obviously referential and embrace the sports vibe? Like, with a Bulls jersey? Okay, Miley. But perhaps you want to go the way of the cool, calm, and casual, with a top that says nothing about the kicks on your feet. You want your vibe to be a little bit, "Oh, these? These are just my running errands — or sinking free throws with my eyes closed — shoes." Opt for an oversized button-down or a deep v-neck t-shirt. Nothing too cliche, please.
5. A jacket always works. Black leather or vintage letterman.
6. Accessorize with abandon. If there's one lesson to be learned from the "#23" video, it's that major sneakers are a natural, if unexpected, friend of major jewelry.
7. Don't be gross. Keep it classy, like Jordan (for the most part). Don't Google "girls wearing Js" in case you want to accidentally see naked people. Apparently girls really like to wear J's while topless! And bottomless! Listen, don't desecrate the coolest sneaker of all time by wearing it just to attract guys. Wear it to be the coolest kid in school, obviously.