Kanye West's New Music Video Is Too Cute For Words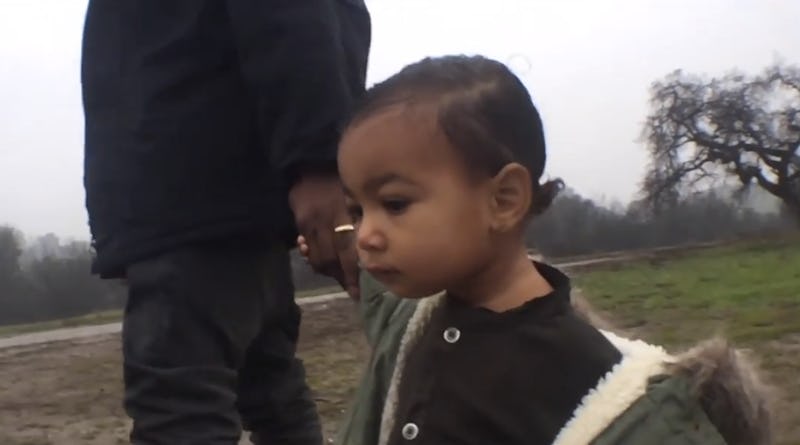 UPDATE: You can now watch the Kanye West and Paul McCartney collaboration "Only One" in full on Kanye's official website.
I can't stand celebrity babies. Here I am, minding my own business, trying to do my work, when all of a sudden I get assaulted by an adorable picture of Blue Ivy Carter and sudden an hour of my life is devoted to going, "Awwwwww, lookit those cheeks!" And don't even get me started on Prince George or North West. There just aren't enough hours in my day to account for cooing over celebrity babies, OK? So it's just so inconsiderate that Kanye West would debut his music video for "Only One" on The Ellen Show, ruining any chance I had of concentrating today. Because the short, simplistic music video only features two people, one of whom completely steals the show. You have two guesses as to which one, and the first guess doesn't count.
In Kanye's defense, it's clear the focus of the video is meant to be on North. After all, "Only One", his collaboration with that random unknown mystery artist Paul McCartney, was inspired by the songs Kanye's mom used to sing to him and was written for the chubby-cheeked North. I mean, you might think you're a star, but have you really made it big if no one has written a song about you yet? I don't think so. Meanwhile, North isn't even a teenager yet and she's already someone's muse. She is the very definition of winning.
The video doesn't pack a lot of action, but it's seriously one of the cutest things I have ever seen. And, just in case North isn't your cup of tea, there is one bonus star that makes an appearance within: Kanye's illusive, rarely-seen smile. (Beatles fans hoping to see McCartney anywhere in the video are going to find themselves incredibly disappointed) In fact, the rapper is smiling big and even laughing before he debuts his daughter and it just ties the whole thing together with an adorable bow. I'm not saying I'll have this on repeat for the whole day, but, let's be real. I'll have this on repeat for the whole day.
Check out the music video premiere below.
Image: YouTube