25 Book Titles That Totally Work As Candy Hearts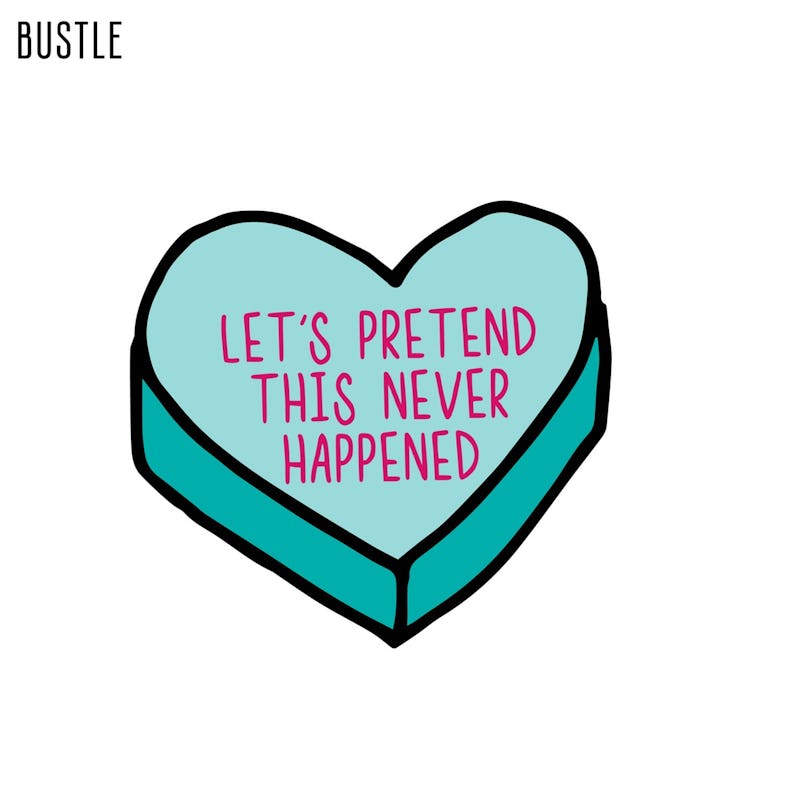 Remember that first box of Sweethearts that was left in your Valentine's Day mailbox at school? You dug through it furiously, hoping for some kind of sign from your secret crush — maybe "IM ME" or even "KISS ME" — but all you found were ones like "ALL STAR" and "COOL CAT." This perennial favorite Valentine's Day gift has been sending people mixed signals for nearly 150 years, and today more than 100,000 pounds of the fruit-flavored confectioneries are sold in honor of February 14.
From the classic "MARRY ME" and "BE MINE," to the oddly specific "NATURE LOVER" and "LOVE MY TEAM," to the timely "FAX ME" and "TWEET ME," these sweet treats have served as a kind of track record for the ways people communicate and express themselves year after year. New sayings are added while dated ones are taken away each season, and sometimes, consumers can vote for what they'd like to see added to the mix.
Three varieties of this classic candy will line the shelves this Valentine's Day: the original Sweethearts, which have the standard "LOVE ME" and "SURE THING"; Dazzled Tarts, which have playful sayings like "LOVE YA" and "BFF"; and an En Español version with Spanish sayings like "TE AMO" and "BESO." And now, thanks to the power of the Internet, you can even make your own custom Sweethearts for that special someone if the varieties out there just don't have the right sentiment for your Valentine.
This year, fan-sourced phrases were added to the Sweetheart roster, including "PUGS & KITTENS" and a mustache emoji. I particularly appreciate the reinstated "GIRL POWER" candy, but I can't help but notice that for the 149th year in a row, literary sayings have been overlooked. If you too are appalled by this oversight, have no fear: we have literary candy hearts for the holiday. Because, really, books and their titles cover all of the bases for your Valentine's Day needs.
by Tom Wolfe
...is you, me, and Netflix all weekend.
by William Shakespeare
Trust me, it works better than "have it your way."
by Jenny Lawson
Because what happens when you're drinking tequila really shouldn't count.
by Agatha Christie
No, I don't care about your fantasy football league and I never will.
by Toni Morrison
Let's be real, "bae" was so 2014.
by Tina Fey
You're a little too Christian Grey for my taste.
by William S. Burroughs
Sandwiches + nudity = the perfect romantic afternoon. Well, maybe if you're dating Joey Tribbani.
by Leora Tanenbaum
I'm simply exploring my sexual interests, and if you have a problem with that, then you can take it up with Beyoncé.
by Joseph Conrad
To the ex who changed his Seamless password after the break-up, this one is for you.
by Elizabeth Gilbert
Follow these easy steps, and a beautiful Brazilian man might fall in love with you too.
by Charles Dickens
I saw every Meg Ryan romantic comedy. Consider yourself warned.
by Dorothy Kunhardt
I'll let you pat mine if you let me pat yours.
by Sophia Kinsella
Or is you're promise to stay quiet a Secret Service kind of thing?
by Lena Dunham
Like MeatLoaf, I too would do anything for love... but I won't do that.
by Lauren Myracle
I can't talk right now sweetie, I'm busy reorganizing my boards on Pinterest.
by Sophia Amoruso
This compliment ranks up there with "DREAM GURL" and "URA TIGER".
by Gregory Maguire
This can work two ways: as in, "you're wicked annoying and I'd rather not be your Valentine," or as in Chris Isaak's "Wicked Game." You pick.
by Margaret Mitchell
I'm simply swept away by our mutual love for Taco Bell.
by Laura Hillenbrand
Please, you had less of an effect on me than Juno did on New York City.
by Ceclia Ahern
PPS, I love your HBO GO subscription even more.
by Cheryl Strayed
To be paired with "PLAY TIME" and "WINK WINK."
by Christopher Moore
And not in the sexy Edward Cullen kind of way. In the terrible Abigail Breslin kind of way.
by Amy Poehler
Let's just cut to the point, shall we?
by Andrew Vaughan
Has there ever been a more romantic sentiment?
Images: Barb Steinacker/flickr; Caroline Wurtzel (25)