Your Official 'Fifty Shades Of Grey' Drinking Game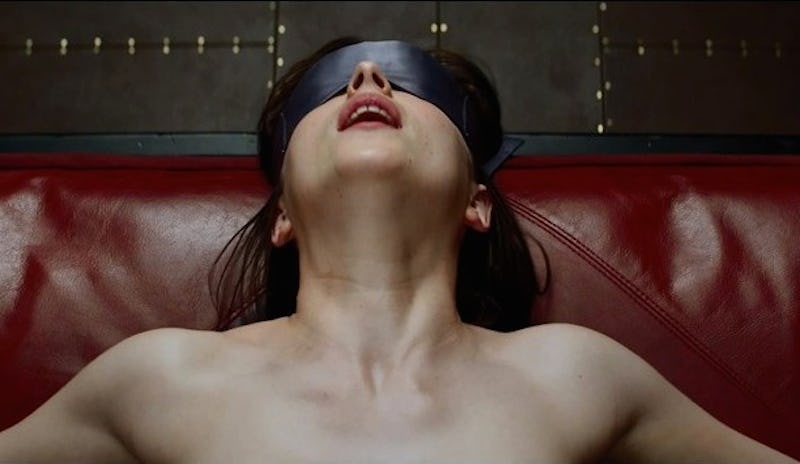 Whether you're willing to admit it out loud yet or not, chances are you're, at the very least, contemplating going to see the Fifty Shades of Grey movie when it comes out next month. It's alright, you can admit it! This is a safe space, my friends. Honestly, I'd be more worried if you weren't tempted to see Jamie Dornan in full-on Christian Grey mode! However, speaking as someone who has read all three of the books (feel free to pass judgment by the way, but remember: SAFE SPACE), I strongly suggest that if you do end up going to see the film, you plan on coming fully prepared. And by "fully prepared" I, of course, mean with a ton of alcohol. Which is why I'd like to present you with your official Fifty Shades of Grey drinking game!
I mean, you're about to embark on some pretty provocative endeavors throughout this film, so sharing a drink or two (or ten) could really help prepare you for all that lies ahead. Trust me, this is the last movie you want to see sober if you can help it. But, getting all liquored up for the occasion should not only keep the awkwardness to a bare minimum, but also help to lighten the mood of what many might consider to be a pretty dark (or should I say gray?) love story. So without further ado…
Supplies:
Champagne (It's only fitting: After all, it's Christian and Ana's celebratory drink of choice)
Make that multiple bottles of Champagne (it's going to be a long movie)
A glass, of course
Take a Small Sip Whenever…
Ana refers to her "inner goddess."
Christian says "Laters, Baby."
They refer to each other by last name: Miss Steele and Mr. Grey.
Ana bites at her lower lip.
Any character on-screen drinks.
Christian plays the piano.
Ana makes breakfast.
Christian scolds Ana for not eating.
Ana is blindfolded.
The evil "Mrs. Robinson" is mentioned/seen.
Start Chugging Whenever…
Christian removes his shirt.
There's an elevator scene.
You find yourself blushing as much as Ana is.
Christian's backstory is mentioned.
Ana has a mind-blowing orgasm.
Christian actually smiles.
You're unsure whether you love or hate Christian.
You roll your eyes at all the BDSM puns. (Christian likes his eggs "whisked and beaten.")
Christian and Ana have "vanilla sex."
Showering/bathing is involved.
Christian is overly jealous.
Finish Off the Bottle Whenever…
Props are involved. (This includes food, handcuffs, crop whips, etc.)
Christian's sexiness is just too much.
Christian takes Ana into his "Red Room of Pain."
You find yourself completely turned on.
Images: Universal Pictures; Giphy; idliketobitethatlip/Tumblr; fiftyshadesteacoffeeandbook/Tumblr