Grilled. Cheese. Crust. Pizza.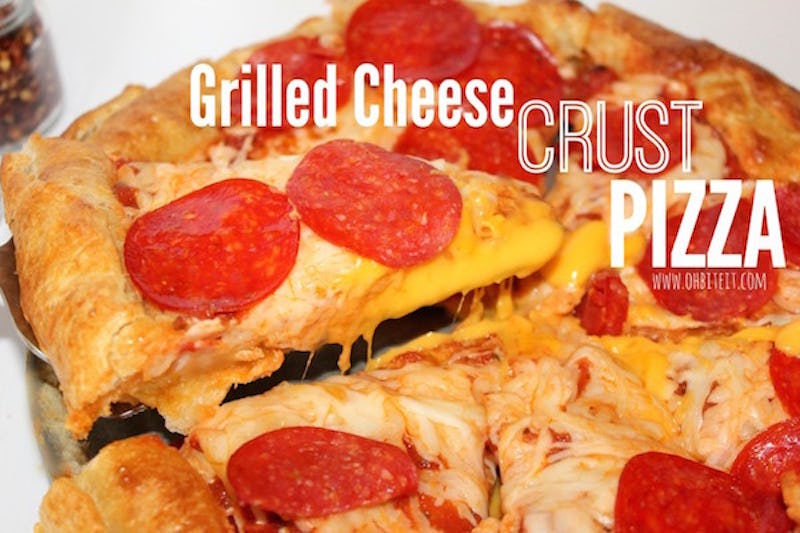 You thought pizza, in all its gooey, cheesy, salty glory, couldn't get any better--well you were wrong. Amy, the hero behind Oh, Bite It! (the creator of these 5 delicious superbowl snacks) has just made pizza that much more amazing, by bringing us grilled cheese crust pizza. Let me repeat that: Grilled. Cheese. Crust. Pizza. Considering that I'm immensely hungover--so hungover that I sincerely believe that if I survive this hangover I am truly immortal--and my #1 of all time hangover food is any variation of cheese and bread, I need this grilled cheese pizza in my life right now.
Now, let me tell you that I am not a girl who is too savvy in the kitchen. I used to eat pasta every night for dinner, and although I haven't eaten pasta in months that's only because I've now "graduated" to cheese quesadillas. But that's okay because at least this grilled cheese pizza recipe is Sara-proof. Here's what you need:
2 containers of Pillsbury thin crust pizza dough (or you can make your own dough if you're like Martha Stewart or something, but honestly who has the time for that? Or the skill, or the know-how... pfffffff)
Approx. 8-10 slices of cheese (Amy used Velveeta in her recipe but she says any will do). I'm no Gordan Ramsey but I would imagine shredded cheese would also be fine...? You know what, maybe don't quote me on that.
1 cup of shredded mozzarella cheese
3/4 cup tomato sauce
1 egg
1 tsp. melted butter
a dash of Oregano or Italian seasoning
a 9" pizza pan
Pepperoni / the toppings of your choosing
Throw it all together, put it in the oven, and BEHOLD: The grilled cheese pizza in all its glory!
Just look at all that melty cheese and that succulent pepperoni.
Aren't you just dying to cut into it and sink your teeth into it?? I might die if I do not get my hands on this pizza.
Do you think it would be cool if we started calling it the grilled cheezza? (If so, I want credit).
As for how to make this godly creation, you'll have to head on over to OH, Bite It! Bring this to your Superbowl party tomorrow and you'll be the most popular person in the room. It also only takes about 30 minutes to bake so you'll have plenty of time to make it the day-of. I can't guarantee that it will come out as good-looking as it does in these pictures, but I'm sure it will still taste like heaven in your mouth. You're welcome.
I may or may not be slightly aroused by this pizza. Okay, one more picture before we go.
Images: OH, Bite It! (5); bluhgifs / Tumblr