Author Claims 'Gravity' Stole From Her Book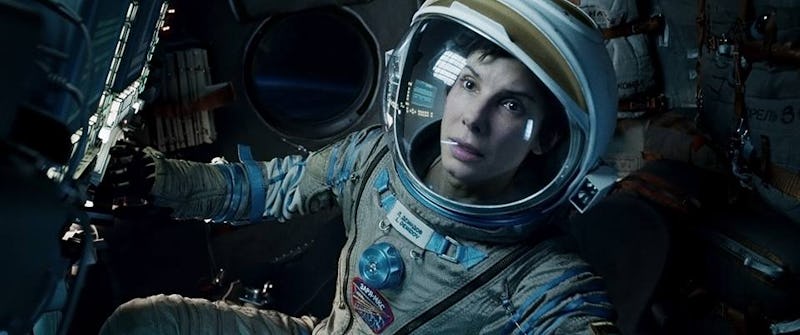 I have to admit that a lot of the time when I hear claims of someone stealing an idea — hey, I also wrote a book about the sinking of the Titanic, give me all the billions of dollars! Or, this movie about a girl falling for her male best friend sounds just like a book I wrote about a girl who falls for her best friend! — I take it with a grain of salt. We aren't exactly all uniquely creative minds who would never stumble across a similar idea completely independently. But then I heard about author Tess Gerritsen who claims the Academy Award nominee Gravity ripped off her book, Gravity, and holy moly her claims sound remarkably legitimate.
Here are Gerritsen's own words about her book's premise: "The book is about a female medical doctor/astronaut who is stranded aboard the International Space Station after the rest of her crew is killed in a series of accidents." The summary on Amazon strays a bit from this focus: "A young NASA doctor must combat a lethal microbe that is multiplying in the deadliest of environments -- space -- in this acclaimed blockbuster of medical suspense from Tess Gerritsen."
OK, so I don't remember any deadly microbe that Sandra Bullock must combat, but Gerritsen explains. According to the author, she sold the film rights to her book Gravity to New Line Productions in 1999, and in that deal, she entirely re-wrote the third act.
While my film was in development, I re-wrote the third act of the film script with scenes of satellite debris destroying ISS and the lone surviving female astronaut adrift in her spacesuit.
And here's where it gets bananas: Alfonso Cuarón was already on board to direct, and it would be called Gravity, a fact she did not know until February 2014. Instead, she was informed that efforts to turn her book into a film ended in 2002. Yikes.
Then in 2008, New Line Productions was overtaken by Warner Bros. Immediately afterward, it was reported that Cuarón was writing a screenplay titled Gravity for Warner Bros. After the behemoth production company took over, essentially, it was not honoring any of the original New Line contracts, Gerritsen argues. And she's not the only one. Other fans and news outlets have seen the striking similarities between the movie and the novel, and even some fans had written to congratulate Gerritsen on her successful movie adaptation.
Saturday, the courts dismissed Gerritsen's lawsuit against Warner Bros, but the judge will allow the author to return with more information on the relationship between New Line and Warner Bros to reopen her suit. If this is in fact true that the idea was stolen, all authors are subject to getting steamrolled by these major players in the movie industry. And, look, most writers aren't J.K. Rowling who could wallpaper her house in her millions, and so Gerritsen's work should be honored rightfully with some of the billions Gravity raked in for Warner Bros. She's not asking for anything she didn't earn.
Images: Gravity/Facebook; Giphy