Skittles Chicken Wings, Anybody?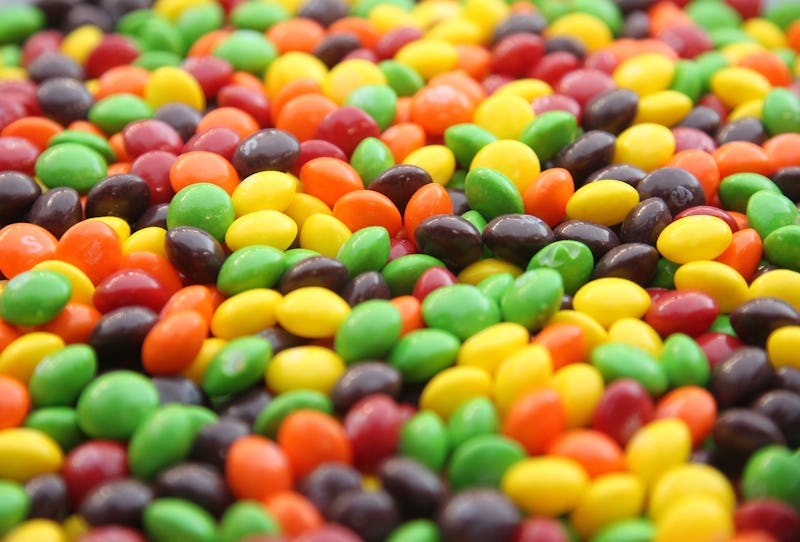 Otto Greule Jr/Getty Images Sport/Getty Images
There is rarely a time when I will refuse a shiny red packet of Skittles being offered to me, and even FEWER times when I will say no to a plate of chicken wings set down anywhere within 20 feet of me (seriously people, keep 'em coming), but combine those two things together, and all of a sudden I'm finding myself unsure of what to do next. In a move that seems equal parts bold, innovative, and totally insane, Thrillist introduces us to Skittles wings — sorry, I mean Skittles wing "lollipops" — thereby encouraging us to taste the rainbow in ways previously thought to be impossible. Your Super Bowl party just got way more intense. Well, it got colorful, anyway.
If you're a Seattle Seahawks fan, you're already totally onboard. Marshawn Lynch has brought his love for Skittles to the Super Bowl two years in a row now (he really likes them, you guys), and hey, if that type of sugar rush works for him, it works for you too, right? But even if you aren't rooting for Seattle this weekend — even if you aren't watching the Super Bowl at all — these Skittles wings have your name written all over them because, er, YOLO, or something.
For the most part, this is your pretty standard chicken wing recipe. You've got your usual, unassuming drumettes just waiting to be slathered in some sort of game day marinade. Use a paring knife to scrape the meat toward the middle of the bone to make it appear more lollipop-y, and then it's time to work your magic with some candy. Thrillist gave Skittles the food processor treatment after separating them by color, and then mixed them with chicken stock, corn starch, oil, sugar, vinegar, salt, and water. Fry everything up, and voila! You have game day-ready Skittles wings.
Let's have a looksie at the finished product, shall we?
There you have it. Part chicken wing, part "lollipop," all Skittles. If just looking at that brightly hued goodness doesn't give you a sugar high, nothing will — your soul is probably a dark and empty place (kidding but kind of not kidding). Check out the full, rainbow-esque original recipe at Thrillist if you feel like showing off your Seattle spirit, or if you're just feeling a little cuh-razy 'cuz woo! It's the Super Bowl! In the meantime, I gotta run. No party — Super Bowl or not — is complete without a few bags of Skittles thrown in the mix, and I need to stock up so guests stay happy. Go team!
Image: Otto Greule Jr/Getty Images