A Fan Made The Seahawks Logo Out Of Weed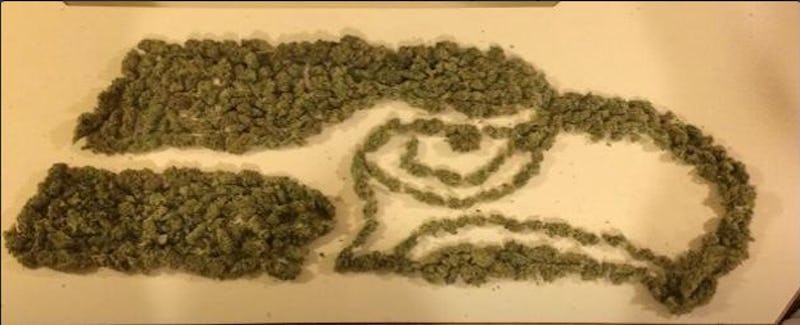 The entire state of Washington has plenty riding on tonight's Super Bowl game (go Seahawks!), but just in case the state's beloved team happens to lose tonight, Seahawks fans will have a copious amount of weed to help them through the night. With two of Washington's recent accomplishments — legalizing marijuana and producing a home team that has a very real possibility of a second consecutive Super Bowl win — it was inevitable that this artful masterpiece was created. Yup, managing to profess his love for weed and his state's football team in the same breath, a fan made the Seahawks logo out of marijuana, a culmination of centuries of human innovation and cultural evolution.
It's a generous amount of weed, too — the amateur eye estimates it to be as much as two to three ounces, an ounce costing anywhere from $250 to $350 (though I rescind all responsibility of accuracy in this measure).
Washington was one of the first states in the U.S. to legalize recreational marijuana use back in 2012, which feels like an entire lifetime ago in terms of how Americans' opinions on the plant have evolved. So, it's pretty obvious that Washingtonians love their weed (I mean, you can't be ranked 11th in the country for highest marijuana use if you don't) or at least are socially progressive enough to understand that its legalization is more of a boon to the state than anything.
Unsurprisingly, a Seattle-based marijuana dispensary prepared 12,000 joints for the Super Bowl, leaving Seahawks lovers well stocked for the game. The mysterious Seahawks fan who made this work of art must believe, like many others, that weed is compatible with many other aspects of life — including and especially football.
Image: Darren Rovell /Twitter