Katy Perry Rocks 4 Hair Colors In COVERGIRL Ad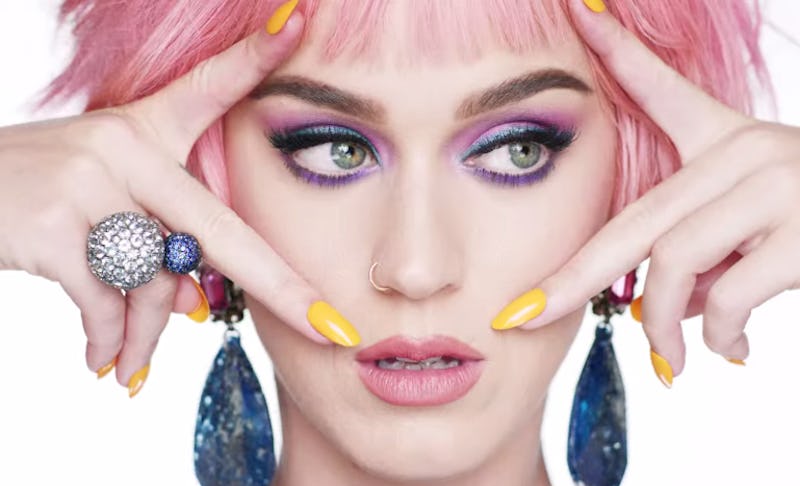 The biggest show of Katy Perry's career is now in the rear-view, as the singer provided the Halftime Show entertainment at the 2015 Super Bowl. The pop diva swapped outfits several times during her performance, seeming to do so at the speed of light. Never one to give in to habit Katy Perry rocks four different hair colors in her new COVERGIRL commercial, along with four very unique makeup looks, in the space of 44 seconds.
The spot is high-impact and there's lot to take in at once, as the commercial and Perry move at warp speed. But it certainly provides plenty of inspo for your own drugstore makeup looks. Sure, Perry gets some assistance from a glam squad headed up by primo celeb makeup artist Pat McGrath, but still.
Katy Perry rocking Easter egg basket-inspired hair color is nothing new. In fact, her strands are rarely the usual blondes, blacks, browns, and reds found in nature.The former Mrs. Russell Brand showed off pale pink, dusty blue, deep purple, and dark brown hair in the new COVERGIRL commercial, all the while playing with her favorite products.
While there is no denying that Katy Perry is extraordinarily gorgeous, not every wild hair cut and color look equally as good on her. Some 'do and hue combos are better than others, so I'm ranking the CG commercial hair from best to worst.
1. Baby Blues
OMGorgeous! The blue waves enhance her oceanic eye color and make the peepers pop. Plus, the blue hue complements her skintone.
2. Purple Rain
The ombre-like purple is not a color she does often, but when she does, she scores. Look how the locks match her eyeliner.
3. Goth Girl
Bettie Page bangs and glossy dark locks were one of Perry's first signatures. She pulls a Zooey Deschanel here with the shorter bangs and a warm, more chocolaty hue, but the vampy lips are totally gothed out and gorgeous. It's an exotic look, but it's way more tame than the blue and purple.
4. Pink Lady
While I love the powder pink shade and the angular bob shape, I don't love the baby bangs paired with a choppy texture. This was my least fave look but I would like it way better if it were blown stick straight, flapper style. I dig all of the elements, just not the shagginess.
Which Katy Perry COVERGIRL look do you like best?
Images: COVERGIRL YouTube (5)