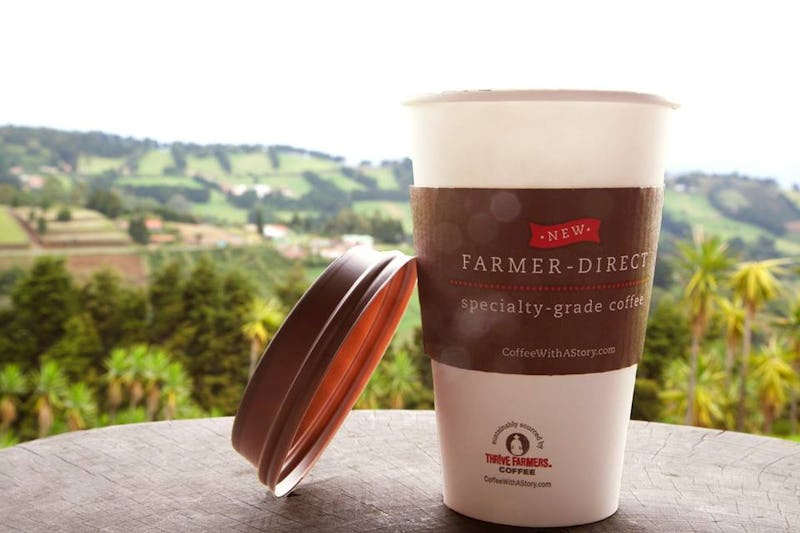 Man, the free coffee deals just keep coming, don't they? We've got another one on the table this morning, and this time, it's not just for a few days over the course of a few weeks: Chick-fil-A is giving out free coffee for the entire month of February. Repeat: Free coffee for all of February. That's a lot of free java.
According to a press release, Chick-fil-A teamed up with THRIVE Farmers Coffee in 2014 to introduce specialty-grade coffee to the quick service industry for the first time, a partnership which is notable for two reasons: One, it's tasty coffee; and two, the sale of each cup provides direct revenue to THRIVE Farmers' network of family-owned coffee farms in Central America, which results in greater profits for the folks who grow the beans in the first place. To celebrate the partnership, the chain is giving out free 12- and 16-ounce cups of iced and hot coffee, every single day, all day, for the entirety of February. If you happen to live somewhere warm (or if you just dig iced coffee even when it's freezing out), you'll be happy to know that the iced coffee is cold brewed, too. The best part? It's not a "free with purchase of some other random thing off the menu" deal — it's a "hey, this thing is totally free" deal, no additional purchase necessary.
I'll be honest: I find it a little difficult to talk about Chick-fil-A without acknowledging the same-sex marriage controversy from 2012, especially since I personally am very firmly pro-LGBT rights. It's worth noting that in the aftermath of the whole thing, the company did stop funding most of the organizations that oppose LGBT rights they had donated money to in the past; they also made a statement stressing that their goal was "to treat every person with honor dignity, and respect — regardless of their belief, race, creed, sexual orientation, or gender." So... there's that. Maybe you care about it; maybe you don't; but in the interest of full disclosure, I think it's worth mentioning. Act accordingly.
Anyhoo, the promo will be running every day as long as supplies last; it's limited to one coffee per customer, per visit, but that's to be expected. Head on over to Chick-fil-A's press room for more info.
Images: Chick-fil-A/Facebook; Giphy