The Ultimate Lipstick For The Vintage-Obsessed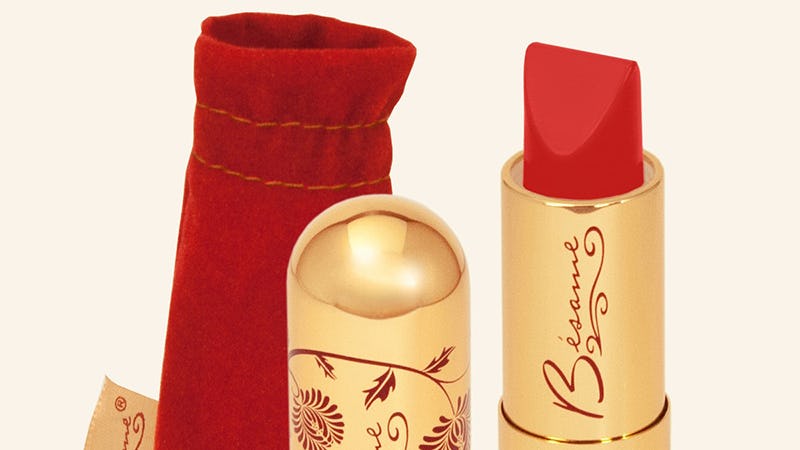 The process of applying makeup in the morning should never be categorized as dull, mundane, or, God forbid, mandatory. Beauty products should provide an opportunity for experimentation and self-expression, an arena in which vintage-inspired brand Bésame Cosmetics excels. Founded in 2004 by Gabriela Fernandez, Bésame fashions the sort of gilded and refined cosmetics that are as much a joy to gaze at as they are to apply.
A number of prominent makeup brands claim to be inspired by the grandeur of the past, but Bésame's products achieve their aesthetic appeal and quality from the study of honest-to-goodness vintage makeup products and formulations. A scholar of beauty and cosmetics, Fernandez has created a multi-faceted empire on the foundation of aesthetics, first with the now decade-old Bésame and then with a tome entitled Classic Beauty: The History Of Makeup. If anyone should be placed in charge of recreating classic cosmetic formulas for the modern woman, it's Fernandez.
Besame's products are refreshingly simple in concept, but the results they produce are worthy of the red carpet. Instead of touting claims of lip-plumping effects or boasting the inclusion of the latest miracle ingredient, Bésame's gimmick is quite simply that there is no gimmick. The brand's packaging and color offerings are based on actual vintage models, but with the bonus of modern technology to enhance each commodity's efficacy.
Besame Red Lipstick, $22, Besame
Amidst a selection of powder compacts and rouge, Bésame's lipsticks are perhaps the brand's standout product. Bésame's Classic Color Lipsticks take their cue from silver screen icons in both hue and formula, each plum full of vitamins A, C, and E for lasting moisture and a rich, semi-matte deposit of color. 1920 - Bésame Red is a juicy, true red for the cosmetic classicist, while 1933 - Merlot provides a more insouciant wine-hued kiss of color, and the radiant rose-hued 1967 - Debutante Pink harkens back to a time when your wedding wasn't the only day to sport an ivory ball gown and gloves. The creamy yet enduring formulas and range of heritage hues would be enough to make Bésame's lipstick a must-own item, but the floral-patterned golden bullets and crimson velvet pouches make the product all the more charming to use.
Aside from garnering a number of cosmetic-obssessed fans, Bésame has also secured quite the primetime following. In addition to appearing on actress Hayley Atwell's Agent Carter on ABC's hit show Marvel's Agent Carter, Bésame's lipstick also adorned the lips of Emma Roberts on American Horror Story. And though Jessica Lange's over-application of Bésame's products is indeed horrifying, the glamour of the Cashmere Pressed Powder and Cake Mascara somehow offsets the scene's tension.
Whether you adore a solid illuminating powder or wish to step up your lipstick game, Bésame provides the satisfying formulas and covetable cosmetic experience of a vintage devotee's dreams.
Rose Delicate Rouge Powder, $25, Bésame
Images: Courtesy Bésame; HayleyAtwell/Twitter