This Seahawks Fan Celebrated A Little Too Early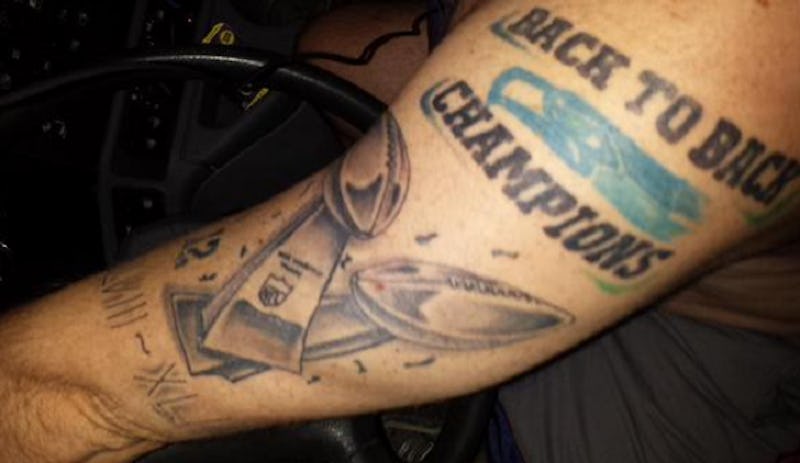 Well, it was a nice 364 days of being smug, but it all came to a halt for me and my fellow Seahawks fans last night. If you have been conscious at all today, you already know that last night the Patriots beat the Seahawks in the Super Bowl and everything is terrible (according to me). But as easy as it would be for me to indulge in a self-pity spiral with all my leftover cheesy snacks, I can at least take comfort in knowing that I'm not as royally screwed as this guy trying to remove his Seahawks tattoo with sandpaper immediately after the end of the game.
Before you cast judgment on this man for jumping off the Seahawks bandwagon, reserve your judgment so that you can judge him for something else: He is not guilty of hating on the Seahawks, but instead, of loving them a bit too much. The tattoo that he got on his arm last week declared "Back To Back Champions" with a picture of the Seahawks, a bold move considering that the game had not even been played yet. My attempt at an explanation is that he only got the tattoo so he wouldn't get fined? Who knows. Who cares. This is all pretty funny, and is a testament to both how hardcore Seahawks fandom is, and how painfully real our disappointment is today.
As you can imagine, this all went downhill pretty fast in the last twenty seconds of last night's game, prompting this hilarious Vine of the same man scrambling to undo his very large, inked inaccuracy:
At least he seems to have a sense of humor about the whole ordeal. The only thing he is really at fault for here is channeling his own inner Beast Mode by getting this tattoo before the game. And as we all learned from the most upsetting two seconds of Seahawks' fans lives last night, Beast Mode is always the way to go.
Images: ocashughhjazz/Twitter