Exactly What Does Pied Piper Know On 'The Flash'?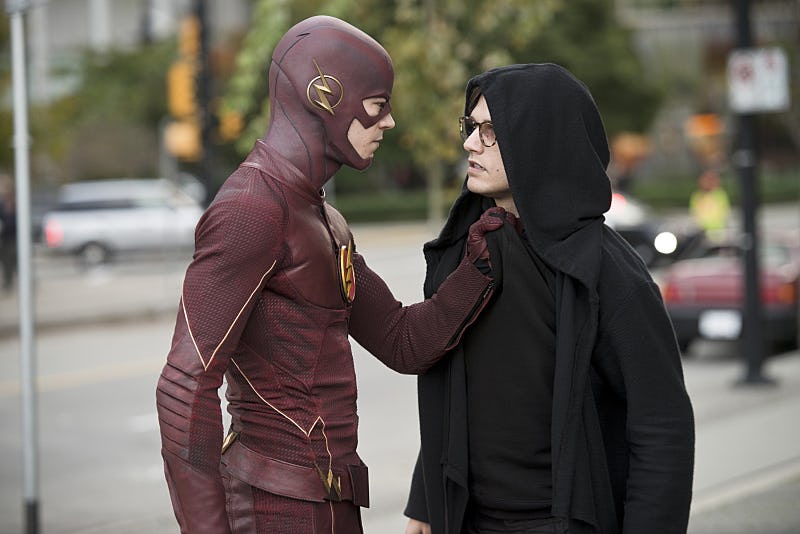 The Flash has turned the Pied Piper into a fan favorite thanks to some damn good writing. In the comics, he's a reformed villain and even became an ally to the third Flash, Wally West. On the show, Hartley Rathaway still has the entitled rich boy routine down, but the writers have made him extremely intelligent and hilariously snarky. He also has the emotional backstory of being disowned by his wealthy parents after coming out as gay. But there's still something very mysterious about Pied Piper's past with Harrison Wells. We know that Wells was both a boss and mentor to Rathaway. But watching last week's episode, "The Sound and The Fury," made me think that Rathaway knows a lot more about Wells than he's letting on. Will the Pied Piper help The Flash figure out the truth about Harrison Wells?
While the introduction of Rathaway as Pied Piper forced Wells to reveal that he knew there was a chance the particle accelerator could go haywire, I don't think this is what Rathaway meant when he warned Barry about Wells' true intentions. Remember, Rathaway found Wells in the hallway without his wheelchair and he didn't seem all that shocked. Does Rathaway know that Harrison Wells is the Reverse-Flash?
I'd bet that he at least knows part of the truth about Wells, considering how didn't react to seeing Wells away from his wheelchair and the cryptic warning he gave Barry. He has no reason to reveal the truth to Team Flash. But fans of this new villain will be happy to hear that he may have a redemptive arc like his comic book counterpart.
In an interview with IGN. The Flash executive producer Andrew Kreisberg expressed interest in extending Rathaway's storyline.
"...he doesn't actually kill anybody. He tries to kill people, but there are no actual deaths...But with Hartley, definitely, especially with Andy, who is so appealing. We booked him for two episodes, and we're hopeful that he'll come back. In the comics, he's actually in a relationship with Singh, so, you know, hope springs eternal."
Pied Piper has definitely been a great addition to the show. It makes sense to keep him around and give him a redemptive arc since we know Wells' endgame will be happening very soon. When Wells reveals his true intentions, we'll need someone to fill his role in Team Flash. Actor Andy Mientus, who plays Rathaway, talked to VH1 about his second episode on The Flash and what we can expect from his character going forward.
"I can't really speak to what's planned for the rest of the season, but my second of two episodes airs [Tuesday night]. If you look at Piper's trajectory through the original comics, you'll see the potential for more and wonder how there possibly couldn't be more. When you see how we leave it, you'll see where it's going."
If Rathaway truly does know (at least on some level) that Harrison Wells is the Reverse-Flash, he probably has some plans in place that could help Barry when he'll have to face his nemesis again. Let's hope that Rathaway sticks around and gets the redemptive arc that his comic book counterpart is now known for. At the very least, he'd be better become an ally rather than a villain for our favorite Scarlet Speedster by the time Reverse-Flash returns.
Images: Diyah Pera/The CW; theflashgifs/Tumblr (2)