This 'Vanity Fair' Cover Is Glamorously Funny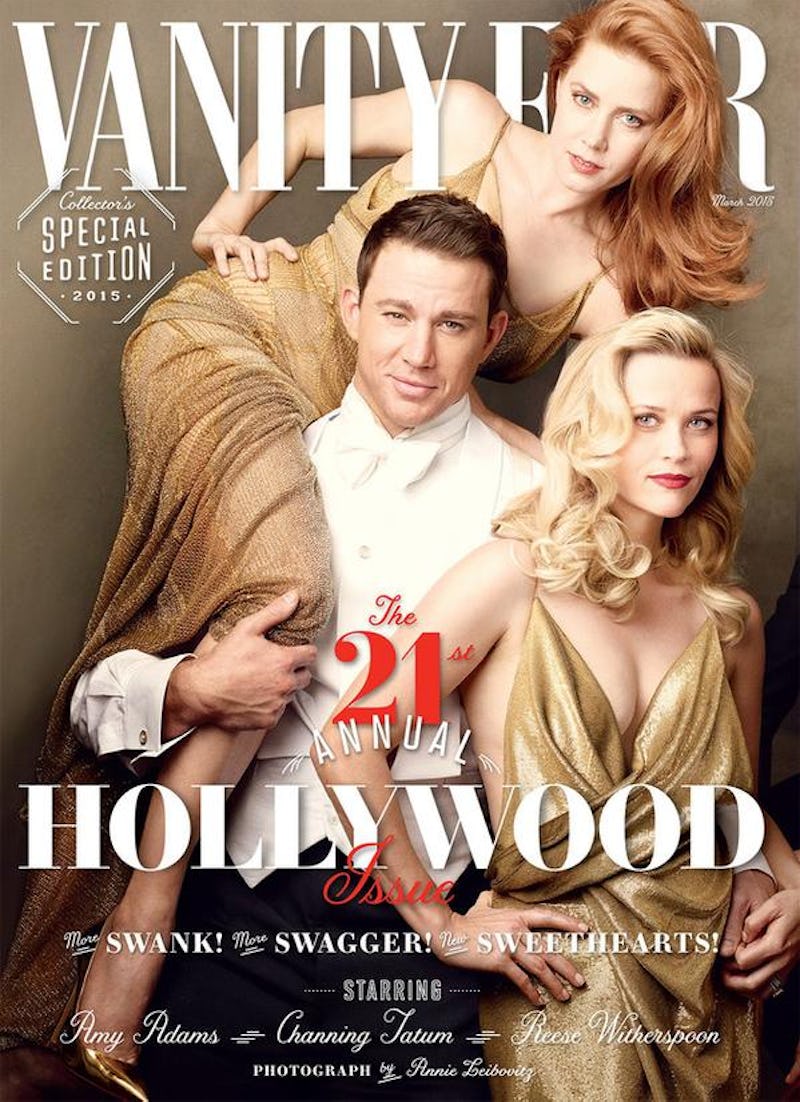 What do Channing Tatum, Amy Adams and Reese Witherspoon have in common? Aside from all being Oscar nominees, the trio shares the honor of gracing Vanity Fair's most recent cover. Tatum, Adams, and Witherspoon, along with seven other standout actors, feature on the 21st annual Hollywood Issue of Vanity Fair , looking like the real life Hollywood royalty that they are.
The iconic three-page spread featuring the elite group of this year's most dignified actors, embodies an old Hollywood glam theme — with the men dressed in black and white tuxes, and the women donning glitzy gold and red gowns. According to photographer Annie Leibovitz, the vibe of the shoot was meant to be super intimate and close. This idea is quite evident, as the actors are interlocked, holding hands, and practically sitting atop one another. Perhaps a little too intimate (IMO) — this almost looks like one big orgy.
Sexual tension aside, there's no doubt that the powerhouse bunch looks drop dead gorgeous, just like pretty much any other cover. After taking a closer look, however, I noticed some subtle, kind of funny details that totally take this cover to a new level.
1. Miles Teller's Subtle Mustache
Since when does Miles Teller have a mustache? I thought his baby-faced self was incapable of growing facial hair all together. Yes he is 27 years old but he could easily pass for 16. Maybe that's why he decided to grow out the 'stache, thinking it will make him look older and more mature. It definitely makes him look different (and almost unrecognizable), but the barely there stubble is a tad creepy, if you ask me.
2. Sienna Miller's Borderline Nip Slip
If you look really closely, you can sort of see the shadow outline of her right nipple. The neckline dips way low that I'm almost certain this is in fact a (subtle) nip slip. Was this purposely placed for some comic relief or did they just miss that? The mystery remains.
3. Channing Tatum Wearing Amy Adams
Tatum actually pointed this one out himself, saying "Amy Adams is wearing Atelier Versace and Channing Tatum is wearing Amy Adams." Literally though. I get the whole intimacy thing, but she looks like she might as well be full-on straddling him in this suggestive pose. I want to see more Channing, please. And more of that liquid gold Versace, too!
Images: Vanity Fair