The Evolution Of Kylie Jenner's Nails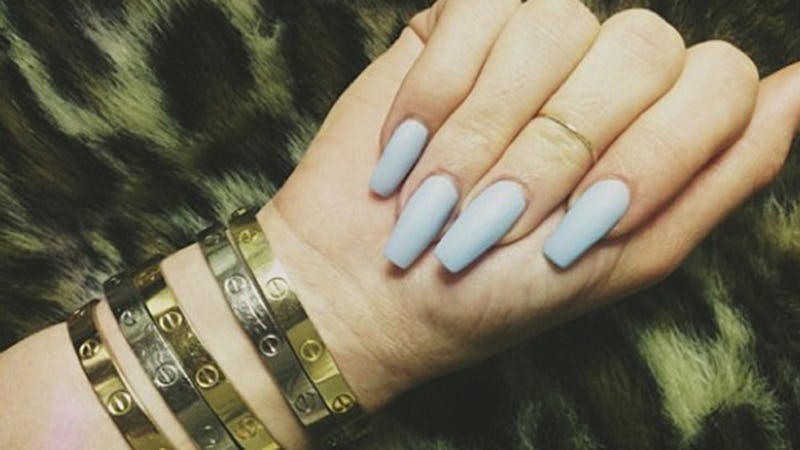 Kylie Jenner is not one to shy away from making a statement. That means with her fashion, her makeup (Hello, those lips!), her accessories, and of course, her nails. So naturally, the reality star's Instagram is an abundance of pics of her flaunting the aforementioned categories. Of course, as a Selfie Queen, (if you do follow Jenner on Instagram) you can catch glimpses of her claws in the majority of her photos. Kylie Jenner's nails are always long, they're always sharp, and they're usually some neutral or pastel hue. On occasion, however, she allows her talons the spotlight so we can ooh and ah (and sometimes question how she does certain things like type on a keyboard or open containers, and then wonder if those are things she even has to do herself, but that's another story) at her perfectly manicured tips.
But it does seem as though mom Kris has had some influence on her youngest's sense of style. If you're familiar with the family's eponymous show, Keeping Up With The Kardashians, you'll know that Kris loves a black-and-white color scheme. It's everywhere from her floors to her wardrobe. And Kylie seems to agree, frequently rocking some similarly colored tips. So if you're trying to Keep Up with Kylie's Nails, I've got you covered. Here's how her manicure style has changed over the past couple of years.
November 2012
Back in the day when she kept her nails at a practical length. But still pastel.
January 2013
This bright blue color was definitely a shocker to find, though.
February 2013
Ah, one of the early signs of Mama Kris's influence.
May 2013
But then she took it up a notch with bedazzled talons.
June 2013
Yes, I'm sure she would match the interior of her house perfectly.
September 2013
Um, Doberman accent nails? Yes please.
December 2013
How about a little bit of color with those claws?
January 2014
Aaaand we're back.
February 2014
But I really can't blame her for all these neutrals. I'm a sucker for 'em too.
May 2014
Love the pattern, but these nails have got me thinking, "you'll [poke] your eye out," a la A Christmas Story.
June 2014
That color though!
July 2014
Little details like the triangle moon accent really bring a simple color like white to life.
September 2014
But going back to color means back to stiletto nails (and enough Love bracelets to pay a college tuition).
December 2014
As much as I love the classic nude squoval, it makes it all the harder to remember she's still only 17.
January 2015
And we're back where we started (though with a little extra length). Color looks good on you, Kylie.