'Fresh Off The Boat' Had a Rough Start Already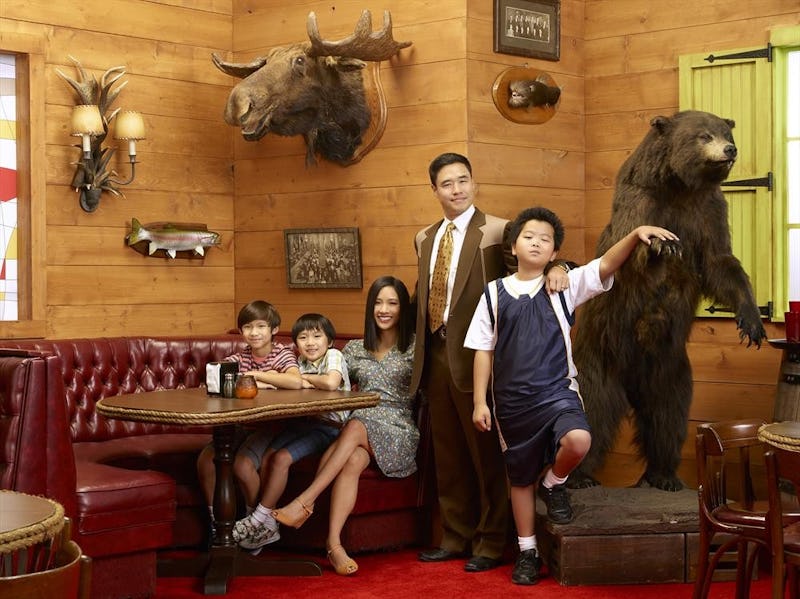 I've been excited about ABC's new sitcom Fresh Off The Boat ever since it was first announced, because as Bustle's Maitri Mehta wrote back when ABC announced it, the series promises to showcase "a 'different' kind of TV family but an incredibly common American one — the family of first generation immigrants," and because "shows about people of color in America have been embarrassingly scarce." The 2014-2015 season has been a great one for diversity on television, thanks to the successes of shows such as Amazon's Transparent, The CW's Jane The Virgin, and ABC's How To Get Away With Murder. ABC in particular has been a surprising champion of diversity this season: Fresh Off The Boat joins Cristela and black-ish on the network's list of new shows with main casts that consist almost entirely of actors of color. But this series has an added level of realism: Fresh Off the Boat is based on a true story, chef Eddie Huang's memoir. The problem is that Huang wasn't so thrilled with the end result.
Huang was born in Washington, D.C. in 1982 as the first-generation son of Taiwanese immigrants. After several career changes (he worked first at a NYC law firm, then as a stand-up comic), Huang discovered his passion for cooking and opened his first — and still most famous — restaurant, BaoHaus, in 2009. (Originally located on the Lower East Side, BaoHaus relocated to the East Village in 2011.) He currently produces a recurring segment on VICE called Huang's World and hosts MTV's competition cooking show Snack-Off .
During all of this, Huang started a blog titled "Fresh Off The Boat," which he later turned into a memoir of the same name, published by Random House in 2013. The following year, ABC bought the rights to the book and announced its intention to adapt it into a television series. The show appears to follow Huang's life fairly closely: it follows his family's move from D.C. to Orlando, where his father opened several restaurants. It depicts the character of Eddie (played by newcomer Hudson Yang), one of three brothers, as obsessed with "hip hop culture," much to the consternation of his traditional mother. It shows how he learned about food — Taiwanese cuisine from his mother at home, and American cuisine from his father's restaurants.
So why, then, does Huang seem so up in arms about the show? On Jan. 13 of this year, the chef wrote a lengthy article for New York Magazine scathingly titled "Network TV Ate My Life," in which he lambasts ABC — and executive producer Melvin Mar in particular — for homogenizing his life story. He recalls Mar saying, in the heat of an argument with Huang:
It's not your story anymore. Get over it. [...] This is a HISTORIC network-television show inspired by your life, and it's going to get Americans excited about us. It's never going to be the book; it's never going to be Baohaus. It's Panda Express, and you know what? Orange chicken gets America really excited about Chinese people in airports.
Huang takes umbrage with the fact that ABC hired Nahnatchka Khan (formerly of Don't Trust The B In Apt. 23), a first-generation child of Iranian immigrants, to script his show, rather than a writer of East Asian descent. "I'm kinda worried it's going to be The Shahs of Cul-de-Sac Holando," the famously off-color Huang states. (He refers to himself in the article as a "chinkstronaut.") "Why isn't there a Taiwanese or Chinese person who can write this?" he continues. "I'm sure there's some angry Korean dude in Hollywood who grew up eating Spam, watching his dad punch his mom in the face, who knows how to use Final Draft!"
In the New York Mag article, Huang refers to network television as "the one-size fits-all antithesis" to his acerbic memoir:
I began to regret ever selling the book, because Fresh Off the Boat was a very specific narrative about SPECIFIC moments in my life, such as kneeling in a driveway holding buckets of rice overhead or seeing pink nipples for the first time. The network's approach was to tell a universal, ambiguous, cornstarch story about Asian-Americans resembling moo goo gai pan written by a Persian-American who cut her teeth on race relations writing for Seth MacFarlane. But who is that show written for?
This past Thursday, just a couple of weeks after the article was published, Huang once again clashed with ABC — this time over a promo tweet that Huang (and much of Twitter) considered offensive. The tweet in question has since been deleted, but this being the internet, nothing is ever gone for good:
Huang issued this unsurprisingly caustic response:
Despite his clashes with the network's promotional department and the guff he takes with their choice of staff writers, Huang does seem to have reached a small amount of peace regarding the adaptation of his life story. He recalls watching the pilot episode with some friends; according to Huang, one of them praised the show, stating, "I ain't never seen anything like this. I don't know what to say. I knew it was coming, but … son … YOU GOT ASIANS ON TV!"
In the end, Huang seems to tell New York Magazine that he has come to terms with what the show has become. And we'll all be able to see for ourselves when the series premieres Wednesday night on ABC.
Images: Bob D'Amico/ABC; Ilya S. Savenok/Getty Images