Who Goes Down On Who More In 'Fifty Shades'?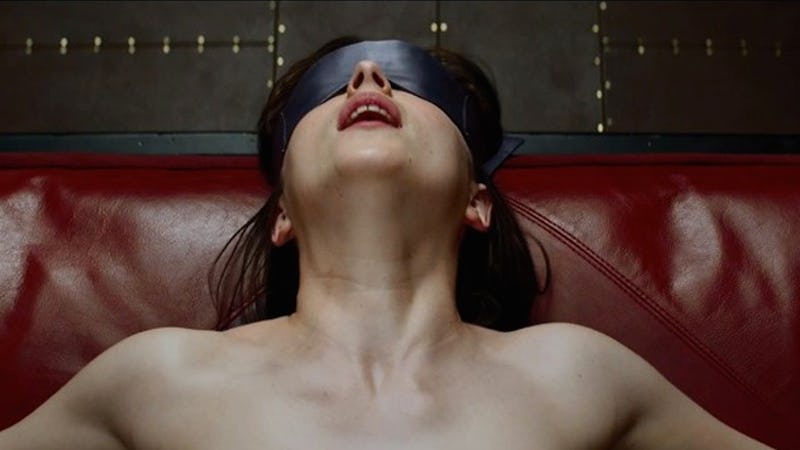 Here we are, at the countdown of a lifetime for Fifty Shades of Grey 's release to theaters nationwide. This movie is sure to become a polarizing film — if it isn't already — and no doubt that's almost entirely because of the sexual nature of the film. Fifty Shades of Grey is set to have 20 minutes (out of 100 minutes) of sex scenes, so in case you were worried this movie wasn't going to be racy, don't worry, because when it comes to the sex... it's about to go down.
Hey, speaking of going down, anyone else wondering what the oral sex count is for Fifty Shades of Grey the book? And real question, are those scenes getting into the movie?
Let's not play coy on this topic, because there's just only so many euphemisms I can use to refer to oral sex in the book. After Bustle's Kadeen Griffiths was kind enough to compile a Fifty Shades "Where My Sex Scenes At?" guide for all the Fifty Shades of Grey book fans who were probably just curious and definitely not at all looking up only the sex scenes, I had to wonder: Which of those scenes involve a little downtown action? Turns out, not all of them do, and for some, there's just short moments of oral sex — but, most importantly, there's a fair amount of equality in the "who's giving who oral sex" department of the first book. YAY, equality.
Need proof? Here's a breakdown:
Ana Gives Oral Sex Total Count: 2
Bathtub: This is the (in)famous "Christian Grey popsicle" part. The two are bathing, and Christian needs washing, so Ana gives him a hand (or... you know).
Ana's In Charge: Ana is in-charge this time around, calling the shots (to begin with) and she gets to pick what — and where — gets her attention.
Christian Gives Oral Sex Total Count: 3
Silk Tie: This is the first, big Ana-focused oral sex moment in the book. It is when the grey tie — you know, "that tie" is introduced.
Ana Returns: When Ana returns from Georgia and visits Christian at Escala, she receives some oral action from Christian.
Playroom: Towards the end of the book, Ana and Christian are in the Red Room of Pain (or playroom, depending on who you ask), and this moment proves to be too much for Ana to handle.
Image: Universal Pictures; Giphy (2)