6 Questions 'Magic Mike XXL's Trailer Left Us With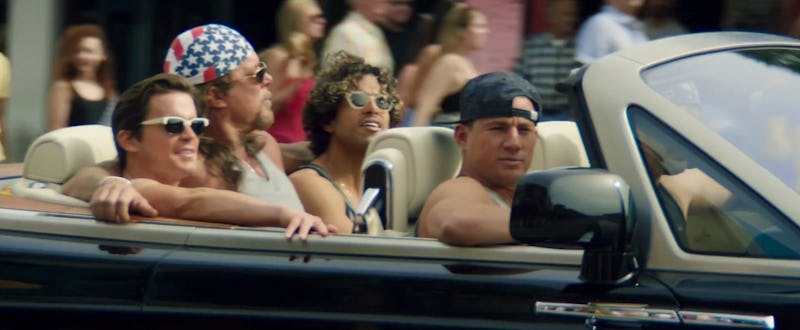 You wake up on a Wednesday morning thinking it's going to be just another typical weekday, and, in the middle of all of the monotony, life gives you the greatest gift of all: the first trailer for the Magic Mike sequel, Magic Mike XXL. If you haven't seen it yet, it's a beautiful thing — mostly because it features a shirtless Channing Tatum in all of his glory. Where we last left off in the Magic Mike universe, Mike had decided he was officially done stripping, and fortunately for us, in the sequel he goes back on his promise. The trailer is worth a few thousand watches, partially because the editors managed to jam pack a ton of scenes into a minute and a half, and partially because, like I said earlier, Channing Tatum is shirtless.
However, because of the volume of the completely insane scenes that are jammed into the trailer, I have a lot of questions on my mind. The bad news is that the movie won't be released until July, so there's a solid five months ahead of us before we get answers. That's okay, because, in the meantime, I plan to watch the trailer over and over again, searching for clues. You know, for science.
How does welding make Mike want to strip again?
In the beginning of the trailer, Mike's just in the garage, being handy one minute and swinging from the rafters to the tune of "Pony" another. This is quite a leap. Although I've never been a welder, I've cleaned out plenty of garages in my day, and never once have they inspired me to return to my past as a stripper. Not that I'm complaining — whatever helps Channing Tatum strip on screen again, I'm good with.
Why would Joe Manganiello waste water like that?
Of course, it's impressive that he can slam a bottle of water into his crotch with such ferocity that a stream of water shoots out, but dude. Bottled water is expensive. If you paid $2 for that, you probably shouldn't waste it.
Why?
What is going on here? Why are all of you in bed together? Why is this half naked girl pounding her helmet into Magic Mike? What has happened that their lives have brought them to this point?
Who approved the wardrobe for this movie?
Patriotism is fine. American flag print bandanas are questionable.
What are they high fiving about?
I hope it has something to do with the fact that, in this moment, Channing Tatum has decided to only act shirtless from now on.
Did Channing Tatum come up with this shimmy on his own?
Please say yes. Watch the trailer again below.
Images: YouTube (6)