The 10 Friendliest Cities In The U.S.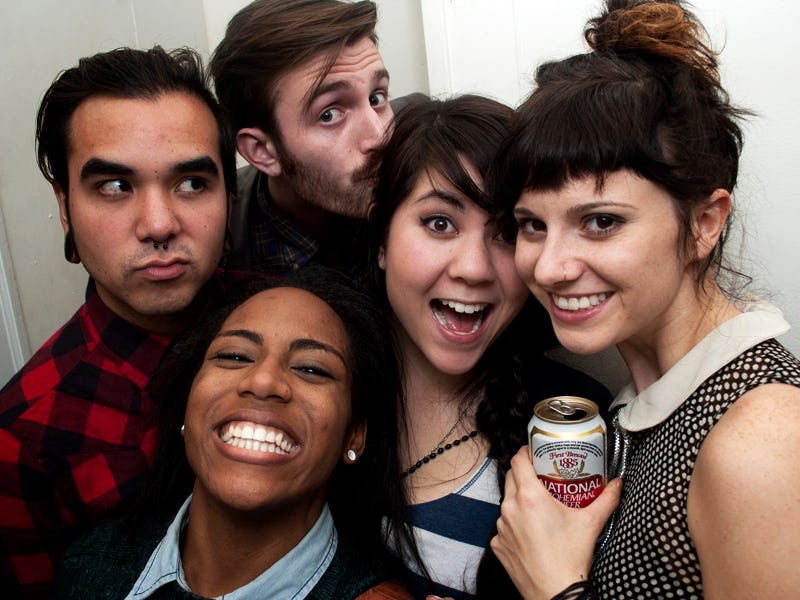 Today is the first-ever observance of International Online Friendship Day, so what better way to mark the occasion than by taking a virtual tour of the friendliest cities in the U.S.? Social networking app Skout, which has been helping users meet new friends all over the world since 2007, recently surveyed more than 52,000 of its users to track friendship trends across the globe, and the results are pretty nifty. Let's zero in on something particular, though, shall we?
2,600 of those surveyed live in the U.S., so using the data gathered from that subset, Skout was able to come up with a ranking of the friendliest cities in the country. Each one has a distinctive characteristic for which its residents are known, too, so you'll always know who you can count on to remember your birthday, listen to your troubles, or help you out of a tight spot. Not that folks from other places don't have those qualities, too — but these cities' residents? They have them in surplus.
Whether you've got a friend nearby who hails from one of these locations, a faraway friend who currently lives in one of them, or even if you'd just like to make a few new pals the next time you hit the road yourself, let's raise a glass to America's most affable towns. Scroll down to see a map of them all!
1. Seattle, WA: Most Outgoing City
Seattle is a fabulous place to meet new people as 81 percent of its citizens are likely to strike up a conversation with someone they don't know. After all, everyone is just a friend you haven't met yet, right?
2. Houston, TX: Most Open-Minded City
Eighty percent of Houstonites say that they have friends of a different race, culture, sexual orientation, or religion. Not bad.
3. New York, NY: Most Thoughtful City
New Yorkers are big on remembering birthdays: 62 percent of them make a point not to forget them. Not going to lie: I'm a little curious about whether Facebook's birthday notifications have anything to do with it…but whatever. Good on you, New York.
4. San Francisco, CA: Most Loyal City
If you hate getting stood up, maybe you should move to San Francisco; 80 percent of the city's residents say they would never stand up a friend. Also, a message for folks who see no problem with standing people up: Don't do it. It's rude.
5. Phoenix, AZ: Most Honest City
It's hotly debated whether or not you should point it out to someone if they have spinach stuck in their teeth. I think Phoenix has the right idea, though — 93 percent of the people who live there would help you out by letting you know. Discreet is the word.
6. Los Angeles, CA: Most Generous City
Angelinos are big on picking up the tab for their friends; 60 percent of them say they're happy to do so during a night out. Awwwww. How nice.
7. Dallas, TX: Most Compassionate City
If you're having trouble making ends meet, head to your buddy from Dallas for help: 89 percent of these Texans would support a friend if they needed it.
8. Chicago, IL: Best Listeners
A whopping 95 percent of Chicagoans say they'll always be there for a friend who needs to talk through a difficult situation. Sometimes you just need a sympathetic ear, you know?
9. St. Louis, MO: Most Sincere City
Compliments are almost never false when they come from a St. Louisian: 93 percent of St. Louis residents say they always mean whatever compliments they give you.
10. Denver, CO: Most Forgiving City
Bygones really are bygones to folks from Denver; 93 percent of these Coloradans will forgive a friend after a hurtful comment. It's a virtue, right?
For the curious, here's that map I mentioned earlier:
Images: jessevaughan/Flickr; Getty Images (10); kevin dooley/Flickr; Skout