The Top 10 Weirdest & Craziest Hotels In The World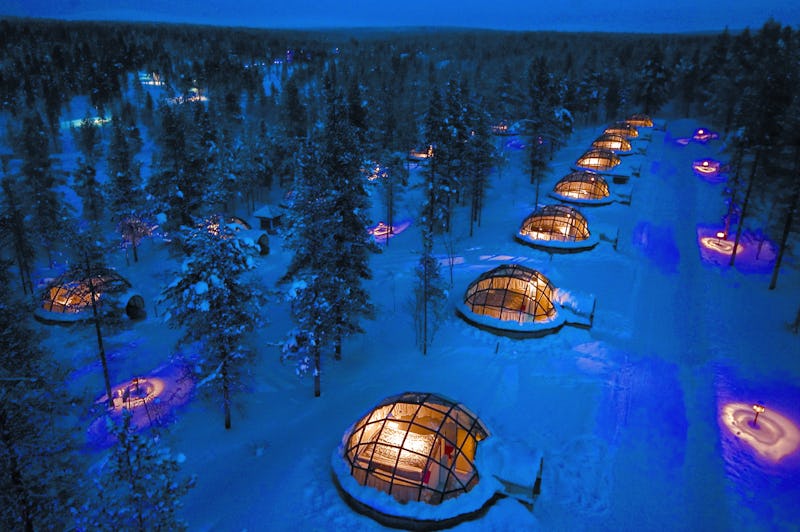 A reservation at the DoubleTree may include freshly baked cookies upon arrival and a continental breakfast before you leave, but compared to some of the craziest hotels in the world, that ain't nothing. With bragging rights that include perfect views of the Aurora Borealis from glass-built igloos, beds surrounded by tropical fish in the middle of the ocean, and a living room inside of an old airplane hitched up in the middle of a forest, these hotels aren't just weird — they're spectacular. Literally, staying in any one of these rooms is a once in a lifetime opportunity, and one that you'll be sure to remember forever.
Check out this list of 10 hotels, and 10 totally different vacationing experiences. Whether you're wanting to run away to the tropics or bundle up in the snow, there's an eventful and mind-blowing experience waiting for you at any one of these destinations. A night's stay in these weird and wild hotels will make you rethink the way you travel. Finding great lodging shouldn't be a hassle, it should part of the fun. So enough with booking the cheapest room you can find, because if these hotels teach you one thing, it should be that the room matters.
1. Conrad Maldives, Maldives
If you're one of those people who think Ariel had it way better under the sea, then Conrad Maldives will make you the happiest person alive. Filled with unique amenities that range from an over-sea spa, under-sea restaurant, and suites that are built like reverse aquariums, it's hard not to be impressed.
2. Kakslauttanen Arctic Resort, Finland
Out under the Northern Lights and in the middle of the wilderness rests the Kakslauttanen Arctic Resort. Famous for its glass igloos that offer the perfect view of green-lit skies eight months out of the year, this breathtaking hotel also offers snow igloos, log cabins, and rooms in "Santa's Home."
3. Montana Magica Lodge, Chile
The Montana Magica Lodge is a sight to behold. Nestled in the Andes, this hotel is built right into a volcano. And if that wasn't enough, it has a waterfall that makes its way down the steep slope of the resort. As its own website puts it, there may be no better "reminder of the majesty of Mother Nature."
4. Kokopelli's Cave, United States
While many of the world's craziest hotels can be found outside of the U.S., there is one worth mentioning here in the states. Kokopelli's Cave, located in New Mexico, is a 1,700 square foot paradise for those wanting to play Flintstones for the weekend. Its waterfall shower, Jacuzzi tub, and astonishing views of Arizona, Utah, and Colorado aren't too shabby either.
5. Ice Hotel, Sweden
Sweden's very own Ice Hotel is the type of place you'd want to find yourself in during the next Ice Age. Made of ice, visitors can choose between "cold accommodations" or "warm accommodations," depending on how adventurous they're feeling. Even if you choose not to stay in an ice suite, the hotel's ice sculptures, artwork, and architecture are sure to blow your mind.
6. La Cabane en l'Air, France
La Cabane en l'Air's network of tree houses along the coast of France will make any visitor feel like George of the Jungle, and in the best way possible. With more than 100 cabins around the country, these "huts" aren't nearly as primal as their given name entails. Beautifully and uniquely designed, these rooms stand above ground level, making for the most elegant treehouses you'll ever come across.
7. Sala Silvermine, Sweden
Afraid of heights? Not to worry, the Silver Mine Hotel can offer you the deepest room you're ever going to find on the planet. Dropping down to 155 meters under the ground, the hotel comes with a tour guide who is on call to bring down visitors, leave them with refreshments, and return the next day to guide them out of the cavity.
8. Costa Verde Hotel, Costa Rica
Aviation lovers, it's time to celebrate. Costa Verde Hotel lets visitors rent out its 727 Fuselage Home, or in other words, a hotel room built into the side of an aircraft. This imaginative hotel also has a restaurant built into a large airplane on ground level.
9. Aescher Cliff, Switzerland
If an isolated and scenic retreat sounds like your dream vacation, then look no further than Aescher Cliff in the remote mountainsides of Switzerland. Only open from May through October, this unique guesthouse offers a dormitory-like experience that is as communal as it is wonderful. Extremely affordable and surrounded by one-of-a-kind views, this destination is a gem.
10. Attrap Reves, France
Ever wanted to sleep in a bubble? Now's your chance. Attrap Reves lets you "book a bubble" in a handful of retreat-like and nature-filled locations. Their now famous bubbles help prevent humidity and keep out even the smallest of bugs. It's like camping in a see-through tent, but way more luxurious. Some packages even include a Jacuzzi, massages, and gourmet dinners provided by the company.
Images: Tarja Mitrovic, Kelvin Lim, Diagonal Uno, nate2b, Curtis Brown, Seddik Chebah, zedfrx, Cherie Stafford, Jurg Stuker/Flickr, Attrap Reves Allauch/Facebook, La Cabane en l'Air/Facebook, Conrad Global Media Center, Sala Silvergruva, Kakslauttanen Arctic Resort