Who's The Best Dressed Superhero on TV?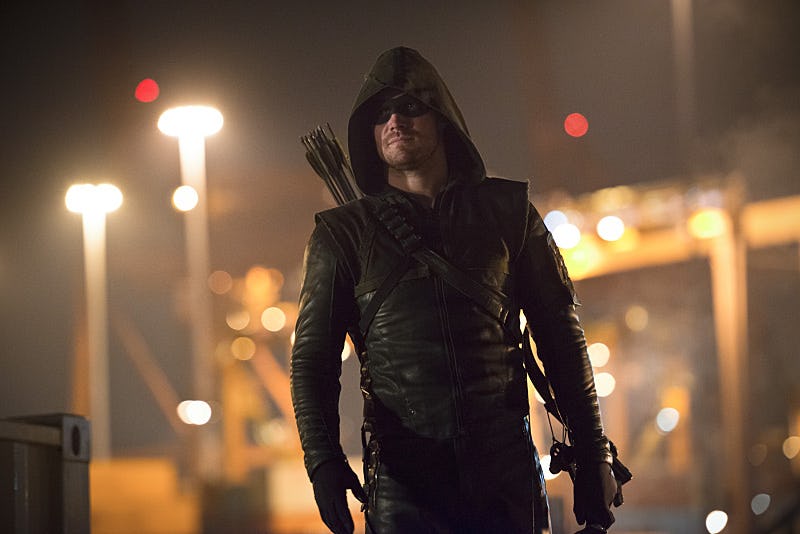 They're saying it's the era of the superhero blockbuster (how excited are we for Avengers: Age of Ultron , by the way?), and the genre is rapidly making its way onto our televisions as well. Remember the old days when there was pretty much just Smallville and that Adrianne Palicki-helmed Wonder Woman pilot that didn't end up getting picked up? Well, now there's Agents of S.H.I.E.L.D, Agent Carter, Arrow, The Flash, and Gotham, and the new year's roster overfloweth with new comic book-based dramas as well — 2015 will see the dawn of Daredevil and A.K.A. Jessica Jones (both new Netflix originals), as well as Supergirl. Whew. Anyway, earlier this week, The CW dropped its first (very cool) preview image of The Atom's super suit, and it got me thinking... who are TV's best dressed supers?
There's Oliver Queen and green-hooded, masked number, Barry Allen in his sight-defying, lightning-bolted reds, Bobbi Morse and her signature ass-kicking Mockingbird get-up — but who's got the one super suit to rule them all? Let's pit all of our favorite current TV supers against each other for some friendly competition and see who walks away as the best-dressed victor. SPOILER ALERT: They're (almost) all awesome.
Ranking from the bottom up, let's start with...
6. The Flash
I don't know about you, but I've never been a huge fan — though, let's give credit where credit is due: it's a Herculean task, making that Flash costume look even remotely cool (poor Barry Allen).
5. Bobbi Morse
Part of what makes Bobbi's Mockingbird get-up so cool is that it actually looks pretty functional (and, let's be honest; it totally blows her plasticky Wonder Woman outfit out of the water).
4. Arrow
Lots of black eyeliner and lots of leather — no complaints there. Also, let's all petition that this become Oliver Queen's new full-time wardrobe:
3. Sailor Moon
No one can deny that the sailor-suited heroine's got major style, and the rebooted version of the character is more fashionable than ever. Accessories game like whoa? Check. Hair game like even more whoa? Check. The most adorable crime-fighting outfit ever? Definitely.
2. The Atom
COOL.
1. Peggy Carter
Okay, so she's not technically a superhero, but there's no denying the fact that she's the best-dressed comic book character currently on TV.
Images: Diyah Pera/The CW; Twitter; Giphy