Why Weren't Screech & Lisa At The Reunion?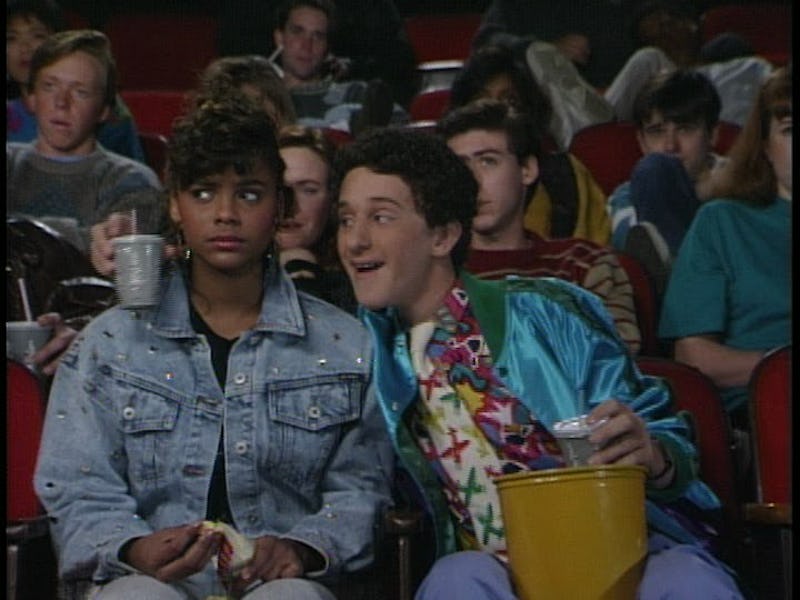 As you may have heard by now, and as I'm happy to tell you if you don't already know, Jimmy Fallon had a Saved By The Bell r eunion sketch during The Tonight Show on Wednesday that got most of the cast back together. From Zack and Slater to Kelly and Jessie to even Mr. Belding, everyone was once more walking the halls of Bayside High, where, apparently, Fallon once went to school before moving to New York to become a comedian. However, two members of the Saved By The Bell group were noticeably absent. Where were Lisa and Screech during the Saved By The Bell reunion? Dustin Diamond and Lark Voorhies had very good reasons for not appearing.
In December 2014, Diamond was arrested and charged with "second-degree recklessly endangering safety, disorderly conduct and carrying a concealed weapon." He pled not guilty to the charge in January 2015, but the legal ramifications of that are likely taking their toll on his schedule and preventing him from agreeing to appear in any Saved By The Bell reunions — at least until the case has been resolved. According to the same People magazine article, Diamond's fiancée, Amanda Schutz, was also charged with disorderly conduct and then released.
Voorhies, on the other hand, last made headlines in 2012 when her mother told People magazine that she was battling bipolar disorder. Since then, she has largely stayed out of the public eye, aside from speaking out against the rumors about her mental health and, allegedly, posting troubling pictures of herself to her personal Facebook. In either case, Voorhies' last acting appearance was in 2012, and it's quite likely that she has been quietly working on her own health and happiness rather than launching herself back into the public eye before she's ready.
So, as wonderful as it would have been to have the entire gang back together — Lisa Turtle and Samuel "Screech" Powers included — it was probably for the best that the two of them decided to sit this reunion out. Taking care of issues in their personal lives, and taking care of themselves, is much, much more important than catering to fans. Besides, the sketch was still amazing even without two of our favorite characters returning. Watch it for the thousandth time below.
Image: NBC