'Chicago P.D' Is Coming Back For Another Season!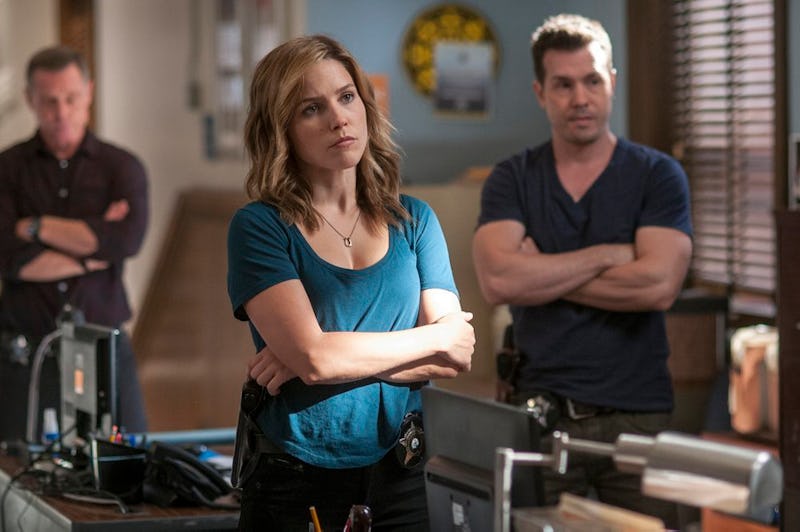 Did you hear the great news? NBC is giving us another season of Chicago Fire's spin-off! That's right, Chicago P.D. was renewed for Season 3, which means we are in store for even more amazing storylines and detective work from a fantastic cast and group of characters. Not only will we get to see additional antics and sarcasm from Sgt. Trudy Platt (if only all of us could be so blunt), more justice seeking from Hank Voight, and the adventures of Burgess and Roman, we will also get to see Sophia Bush continuing her badassness. I don't know about you, but I sure can't get enough of Bush and her character, Erin Lindsay, who is always going above and beyond as part of Voight's Intelligence Unit.
You know what else we can always expect from Lindsay? Her being totally kickass. She might be the only female on the special task force, but that means squat. Ever since growing up on the street, Lindsay can handle herself, hold her own, and will never let anyone (a man or woman) tell her what she can or can't do. See why she's adored?
With that said, let's talk about what we might see from her during Season 3.
Keep Putting The Bad Guys Behind Bars
Don't mess with her, because you'll probably live to regret it.
Keep Fighting For What She Believes In
Talk about inspiring.
Keep Speaking Her Mind
Enough said.
Keep Supporting Herself & Other Women
She'll never let anyone walk all over her or diminish her because she's a woman.
Keep Getting Hot & Heavy With Halstead
Even if Voight doesn't like his team members getting it on, and he's like a father to Lindsay, she isn't going to let anyone run her personal life.
Keep Fighting For The Underdog
When doesn't she lend a helping hand? I mean, look what she did for Nadia. Lindsay will never, ever give up on someone who she thinks has a fighting chance.
Who else can't wait for even more Erin Lindsay?
Images: Matt Dinerstein/NBC; erinlindsay-cpd (5), fifthharmony (2)/Tumblr