Will A Movie Affect An Alleged Killer's Trial?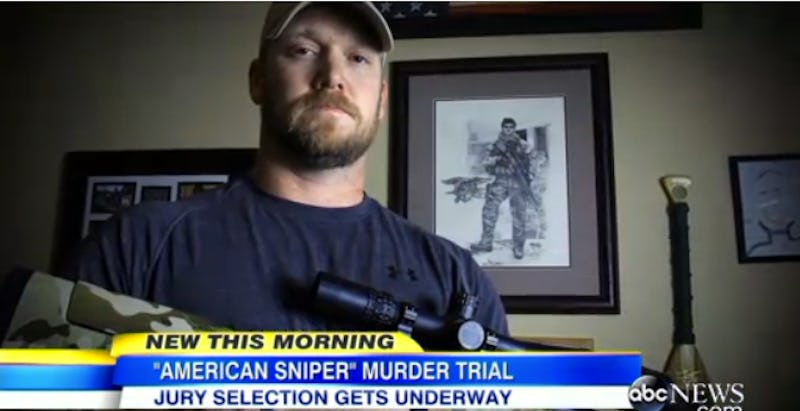 Surely most of you have heard of, if not watched, American Sniper, the Clint Eastwood movie that has faced praise and criticism for its portrayal of U.S. Navy SEAL Chris Kyle. Despite scathing reviews, the film has garnered several Oscar nominations and set box-office records nationwide. Meanwhile, the jury selection for Kyle's alleged murderer, Eddie Ray Routh, began Thursday, amid the defense team's concerns that the success of American Sniper could jeopardize Routh's chance for fair trial.
About 800 potential jurors have been called up for possible jury duty in the murder trial of Kyle, who, along with his friend Chad Littlefield, was fatally shot in 2013 at a Texas gun range, allegedly by Routh. Kyle and Littlefield were helping Routh, a former Marine, cope with post-traumatic stress disorder (PTSD), during which period the shooting took place.
But Routh's lawyer, J. Warren St. John, has argued that the nationwide success of the movie — adapted from the bestselling memoir of the same title that Kyle wrote before his death, and starring Bradley Cooper as the SEAL — would hamper the court's ability to find an impartial jury. St. John's repeated attempts at moving the proceedings out of Erath County, Texas, have been denied.
Erath County is relatively miniscule, and the trial of the alleged killer of the most prolific sniper in American history by another veteran is sure to be an emotional one for its residents. But American Sniper's box-office success has raised another conundrum: Can Routh get a fair trial anywhere in the country?
Citing the "unusually emotional nature of the issues involved in the case," Judge Jason Cashon issued a gag order in 2013 prohibiting law enforcement, attorneys, and family members from commenting to the media, according to The Hollywood Reporter. And St. John told the magazine that the Hollywood hit "is going to be an issue."
As perhaps a testament to the challenging jury selection, resident Susan Cockburn told ABC News:
I saw the movie, and I think they are going to have a hard time finding an impartial jury.
Routh admits to killing the men, though St. John said he will plead an insanity defense. Renowned jury consultant Jo Ellan Dimitrius, who helped pick the jurors who acquitted O.J. Simpson of murder in 1995, told ABC News that the defense has other issues besides an impartial jury to be concerned with:
I think that the film will certainly add to the difficulty of finding a fair jury, but I think the other component is, as well, that the crime occurred in this community, and this is a very small, close-knit community in which people have great pride in the military in this country.
Image: ABC News/Screenshot (2); Getty Images (1)