Are Eric Trump & Donald Trump the Same Person?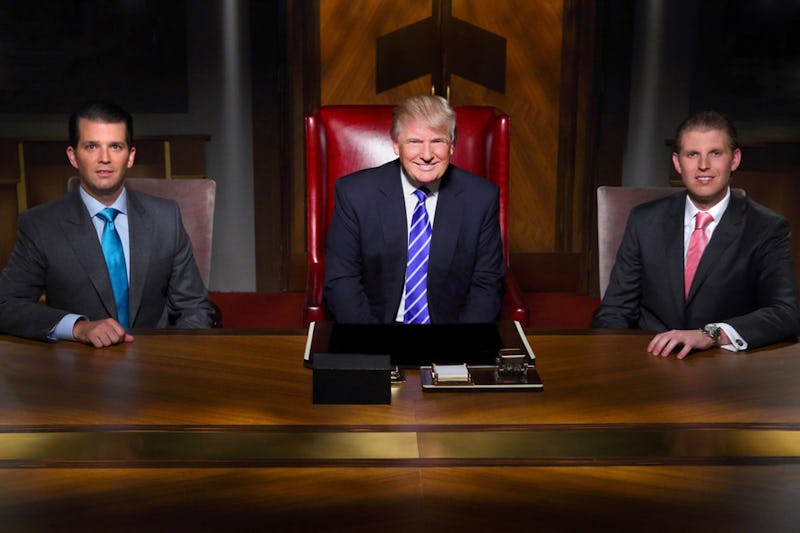 When watching The Celebrity Apprentice and not finding yourself distracted by The Donald's hair, you might realize that Donald has a twin sitting beside him. No, I'm not talking about Donald Trump Jr., although the name could make you believe that, I'm looking at the other side of Papa Trump. Donald Trump and his youngest son, Eric Trump, sitting next to each other is pretty distracting when viewing the show, since the two have a lot in common, physically and personality-wise. So are Celebrity Apprentice star Eric Trump just a mini Donald Trump?
Growing up as a Donald Trump child, I can't imagine the phrase "You're just like your dad," doesn't get old. Hell, that phrase get's old for some of us that aren't Donald Trump's children. But I would assume that being cast in The Donald Trump shadow is a thing that very much existed as part of Eric, Ivanka, and Donald Jr.'s earlier lives. But, despite their powerful father, all of Donald Trump's children have shown that they are much more than "Donald Trump's children." Through their education (Eric went to Georgetown, while his father went to Fordham for undergrad), personal businesses, and charity, Eric and his siblings have made names for themselves. For example, Eric has his own foundation, The Eric Trump Foundation, which is dedicated to raising money for children at St. Jude Children's Hospital.
With that said, there are similarities between Eric and Donald Trump that can't go unnoticed.
They Both Tell It Like It Is
In the above clip, Eric shows that he and his father are not afraid to just say it like it is, no sugar-coating whatsoever. If you've watched any bit of The Apprentice series, you know that Donald is one to be brutally honest and blunt. "Let's call a spade, a spade," should be the Trump family motto.
They Are Identical
The hair, the stoic expressions, it's all there... all Eric needs is a spray tan and they're basically the Olsen twins.
They Both Married at the Same Age
This one is purely a coincidence, but it's still kind of strange out of all the years to get married in life. Donald married his first wife — Ivana Trump, Eric's mother — in 1977, when he was 31. Eric, who recently just turned 31 in January, married his wife, Lara Yunaska, in November of 2014 (so almost 31, but still counts).
They're in the Same Business, Duh
Donald is the CEO, President, and Chairman of Trump Organization, which has become a family business for all Trump children. Eric, along with Ivanka and Donald Jr., all serve as Executive Vice Presidents for The Trump Organization, which invests and operates in real-estate, resorts, golf courses and franchises (such as the Miss America franchise).
Images: Douglas Gorenstein/NBC; Getty Images (3)