Have A Romantic Valentine's Day Date Night In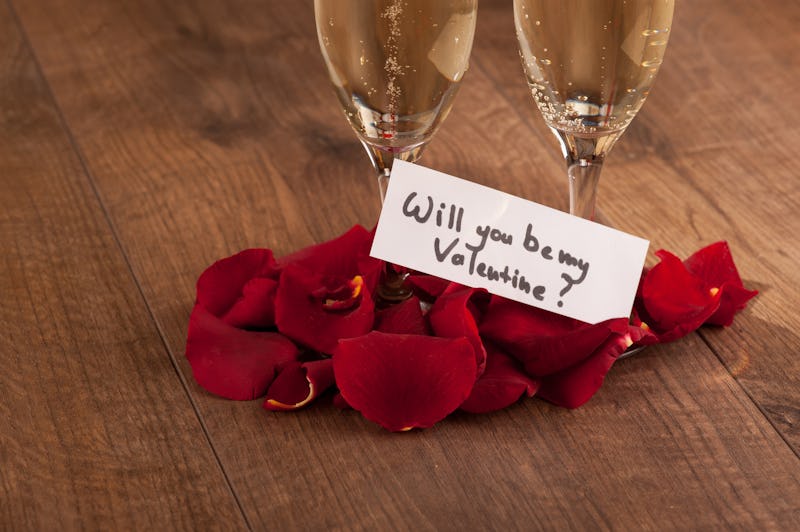 If food is the way to the heart, then preparing a home cooked meal for your significant other this Valentine's Day will surely secure you a one-way ticket to Love Town, USA. Population: two. And let's face it, when it comes to romance, Italians do it best. The language, the wine, the food — it all screams amore. And no one does a romantic homemade Italian meal for two better than Laura Vitale, host of YouTube's hit series Laura in the Kitchen and Cooking Channel's Simply Laura , who firmly believes you don't have to sacrifice romance when planning an affordable Valentine's dinner.
And if your heart is set on staying in and avoiding the crowded restaurant scene this Valentine's Day, you're not alone — according to a ConAgra Foods survey, 52 percent of millennials between the ages of 18 and 33 believe it's more romantic to cook at home with their SO than to go out to eat. And I've got to say, I agree. Why contend with overpriced cocktails, minuscule portions, and elbow-to-elbow dining when you can plan, prepare, and share a meal with the one you love in the comforts of your own home?
But even avid cooks like me fall prey to recipe blocks every now and then, struggling to come up with creative, inexpensive, yet romantic dishes. Lucky for me, I had the opportunity to sit down with Vitale and pick her culinary brain, garnering some much-needed Valentine's Day inspiration. Check out her tried and true tips on how to create the perfect Val-IN-tine's dinner below. We've even included Vitale's step-by-step video recipe tutorials to boot!
Tip No. 1: Do things your way
"Date night in is a fantastic way to customize the evening for you and your partner," Vitale says. "It's about doing things your way — putting on the music you guys enjoy listening to [insert Sinatra here], cooking the kind of food that you love, and not having to break a budget in order to have a great evening together."
Tip No. 2: Use quality ingredients
"You don't need the pressure and hassle of coming up with something really creative, trying to reinvent the wheel. All you need are good quality ingredients. I've created two recipes that are both really easy to make and shop for. As the main, I made lemon butter roasted chicken...
... And of course, the Italian girl in me would never let a special occasion go by without a pasta dish, so I made my mother's pasta with pancetta and pickled cherry peppers. You can even simplify your shopping by going to Instacart to have your groceries delivered in as little as two hours."
Tip No. 3: WINE
"If you're popping open that pinot grigio for the chicken, just go ahead and pour yourself a glass or two. That's another great thing about having date night in — you don't have to buy expensive bottles of wine or fancy cocktails. Buy one bottle of wine. Use it in your dish, and then have a cocktail or two."
Tip No. 4: CHOCOLATE
"You cannot go wrong with chocolate mousse. I call mine a 'lover's chocolate mousse' because once you take a bite you just kind of fall in love. Absolutely delicious. It's decadent. It's romantic. And it just feels special because it's not something you make on a regular basis, so it really makes for a satisfying end to the meal."
Tip No. 5: Look to the Internet for added inspiration
"Go to Laura in the Kitchen for tons of great recipes that are sure to inspire you. You can also visit Forkful, and if you make any of these recipes, make sure you send them to social media using #VDayIn so we can see your Valentine's creations."
Images: Fotolia; Laura in the Kitchen