What Your Wine Choice Says About You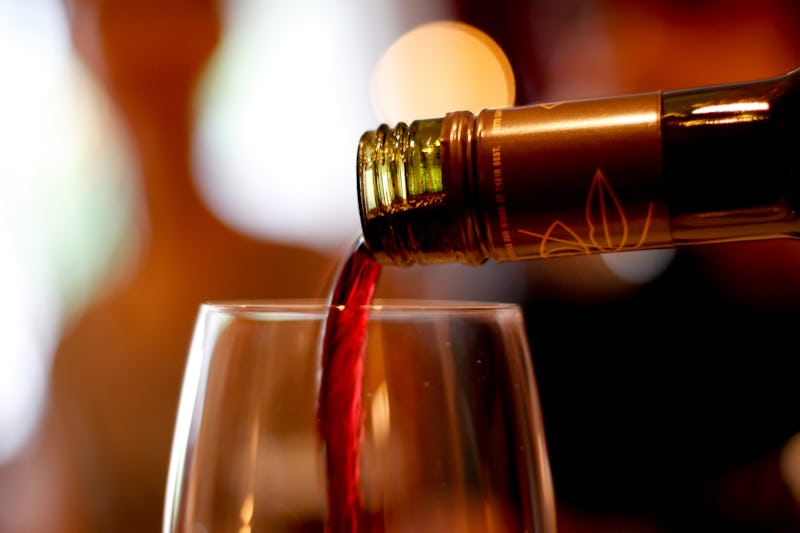 As a modern, liberal city-dwelling woman, I really don't care to judge who you are or what you do, but please know that I will judge the shit out of your wine choice. Your choice of wine speaks volumes about who you are as a person — your hopes, your dreams, where you vacation in the summer. And let's face it, such first world decisions can make or break a budding relationship, friendship, or career opportunity. Don't believe me? Let's consult the wonderful world of imaginary social scenarios.
Scenario A) Date number three. He picks the BYOB hole-in-the-wall Thai joint on the north side of the park. You kindly offer to B the B. And just as you bite into that red chili floating in the curry you insisted on ordering "Thai spicy," you start to uncontrollably salivate and sweat. That late harvest Riesling would have done the trick, but noo, you wanted to be all seductive, stupidly opting for the cabernet sauvignon instead. Ain't nothing about this bottle that will cut that spice. Just go ahead and see yourself out before anyone gets hurt.
Scenario B) She invites you to your first Friendsgiving, and when she asks you to bring the wine, you immediately reach for the biggest bottle with a screw cap you can find. Epic fail. You'll be sure to never see them again.
Scenario C) Fifth day on the new job. Boss lady invites you to a power lunch (see: liquid lunch). Your server looks to you to order first. You panic, vacillating between graceful and elegant choices, and in a cloud of confusion, you hastily go the economical route. "Oh, just the house blend will be fine." Her eyes lower in disgust as she orders the '05 Châteauneuf-du-Pape. You can kiss that mid-year bonus goodbye.
Why put yourself in these painful social situations when you can use said imagination to predict the outcome beforehand? If your imagination is currently on hiatus, read on and take notes from your friendly neighborhood wine snob. Luckily for you, 10 years of restaurant experience and a healthy vino obsession have taught me a thing or two about the grape juice. I've paired each popular varietal with its accompanying personality assessment, and further punctuated them with what else? Gifs. Go forth young grasshopper, and choose wisely.
Chardonnay
"Is it still considered brunch if it's 10 a.m. and I'm drinking alone?"
Riesling
"Let's do sushi. No let's do Thai. No let's do Asian fusion."
Pinot Grigio
"Does this come as a pitcher special?"
Sauvignon Blanc
"Can I get some ice with this?"
Moscato
"I wanna get a little drunk, but I also want cupcakes."
House blend
"This is me living paycheck to paycheck."
White Zinfandel
Jessica Day says it best:
Champagne
"I'm just getting started, and yes, there will be sex tonight."
Prosecco
"We're going to bottomless brunch, right? Right?"
Boone's Farm
"I'm not of age."
Cabernet Sauvignon
"Yes, it's 2 p.m., and yes, there's cabernet in this cup."
Malbec
"Here, try this. It's Argentinian. It's trendy right now."
Chianti
"And for our third date we watched The Godfather trilogy in his parent's basement."
Pinot Noir
"I feel as though I prefer a younger Burgundian style Pinot during the cooler months. The flavor profile just tends to lend itself to a deeper complexity where the subtle tannins and bright notes of gooseberry gently mingle on my palate before an effortless yet opulent finish, offering immediate gratification both intellectual and hedonistic in nature. But I'm nonplussed. Why are you walking away?"
Merlot
"No, I've never seen the movie Sideways, and I'm OK with that."
Zinfandel
"What's your favorite wine?" "White Zinfandel." "You mean Zinfandel." "No, I mean White Zinfandel." "Oh. Stop talking."
Shiraz
"I studied abroad in Australia. Ten years ago. For six months. And boxed shiraz was the only thing I learned."
Syrah
"New York City winter. Day 132. Morale, low."
Beaujolais
"I enjoy tweed, film noir, and beat poets."
Sangria
"But the chips and salsa are free, right?"
Whatever you can find
"If anyone needs me, I'll be quietly sobbing under my desk."
Images: Tobias Toft/Flickr; Giphy (21)