Meet Firestorm's Other Half: Victor Garber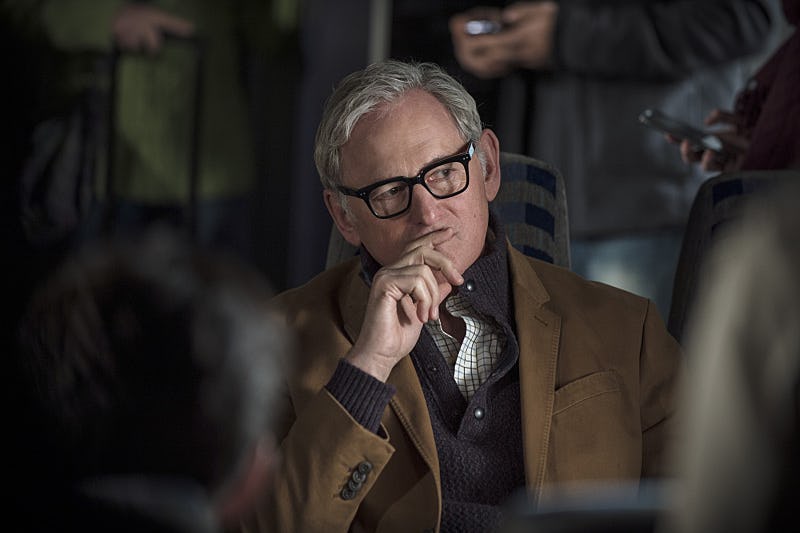 Victor Garber, who made his debut on The Flash on Feb. 3, is the latest high profile actor to take a shot at playing a comic book super hero. We haven't yet seen him don a cape or pick out any high-tech gadgets, but we do know who Garber's Flash character is: Martin Stein, or Firestorm. More precisely, Dr. Stein is technically one half of Firestorm, the hero who is created when a freak nuclear blast (don't you just hate those?) fuses him and Ronnie Raymond into a single person. Even if you couldn't quite place him, you probably recognize Garber from somewhere. After all, The Flash's new guest star has been in plenty of films aimed at women (and a couple of other pretty good movies as well).
Now that he's appearing on The Flash, Garber will have to start learning the show's (increasingly complex) plot lines. Like the fact that his own character is really two people. Ronnie controls Firestorm's body, but Dr. Stein still exists as a voice in their (his?) head. (And if you just figured out his name is a play on "Frankenstein," trust me, you're not alone.) But though Garber may be new to the world of DC Comics, he's no stranger to action-packed TV. After all, people probably know him best from a little show called Alias. And he's appeared in plenty of other female-driven projects as well.
Here's a look at Garber as Firestorm:
Where else have you seen Vincent Garber? He's probably been in at least one of your favorite films.
Sleepless in Seattle
Writer-director Nora Ephron was a genius at making romantic movies. Put her and Tom Hanks, king of '90s rom-coms, together, and it was a match made in heaven. Sleepless in Seattle starred Hanks and Meg Ryan as Sam and Annie, a couple who meet through his radio show, and Garber as Greg, Sam's married friend who's not quite buying the fairytale.
Titanic
One doomed romance reigns above the all, and that is and will forever be Titanic. Garber played Thomas Andrews, the master shipbuilder (so really he's kind of to blame for the whole "unsinkable boat sinking" thing). He does help Rose find Jack when Jack was handcuffed to a pipe, though, so I guess he wasn't all bad.
Roger and Hammerstein's Cinderella
There may be a new Cinderella movie coming out this year, but Rogers and Hammerstein's version will always be my favorite. That's because it starred Brandy as the titular princess, Whitney Houston as her Fairy Godmother, and Whoopi Goldberg as the Prince's mother. That casting is amazing. Speaking of Whoopi, she and Garber, who played the Prince's father, have some great comedic moments throughout the film. I also give them props for pulling off that wardrobe.
Legally Blonde
Yet another classic, Legally Blonde deserves a place in the female comedy hall of fame for giving us the "bend and snap" alone. Garber played Professor Callahan, Elle Woods' law teacher. He starts out the film as a good guy, encouraging Elle to work with him on a case. Later, however, it turns out he only hired her to try and get her into bed. Of course, Elle outsmarts him, and proves everyone wrong who ever doubted her in the process. You go girl!
Images: Cate Cameron/The CW; InBedWithJohnny/Tumblr; Rebloggy (2)