'The Bachelor's Weird History of "Faking" Injuries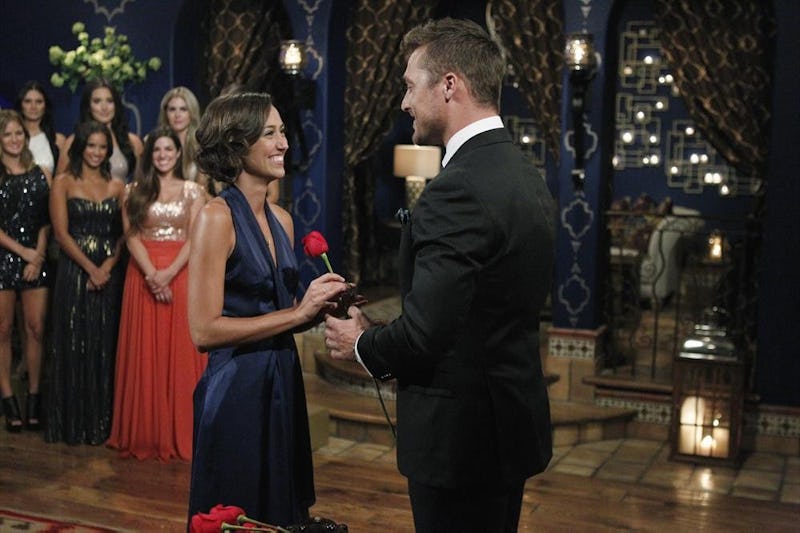 We were all left in disbelief during last week's dramatic episode of ABC's The Bachelor . I don't know which was worse, Kelsey saying that her story is "tragic, but amazing" or when the series ended sans rose ceremony and Kelsey on the floor struggling to breathe. Even though people suspect that bachelorette Kelsey Poe is faking a panic attack, I believe that it's probably real, but maybe not as dramatic as it appeared onscreen.
Everyone knows that The Bachelor previews are almost always cut together in a way that seems real, but is actually different moments from the upcoming episode mixed together to make things seem way more dramatic than they actually are. I am betting that they give her some water and she's back on her feet in 20 minutes for the rose ceremony, while the show delivers shots of the other women talking trash about how Kelsey is faking. It's classic Bachelor behavior (just ask the Tierra from Sean's season). Plus, Kelsey ends up in South Dakota with everyone, so it can't be that serious.
This isn't the first time that someone has had a medical emergency (and been accused of faking said emergency) on the show; it's happened before at least seven times and it is always accompanied with the most dramatic editing possible, but isn't the drama why we watch the show in the first place?
Tierra on Sean's Season
Sean Lowe took his ladies to a freezing cold lake telling them that they don't have to jump in, but of course, they jump in because they want a rose. Tierra jumps in the ice cold water and gets hypothermia. Lake workers come and pull her out of the water and is taken away back to the hotel (in a wheelchair) because this is The Bachelor and it's always dramatic.
Ames on Ashley's Season
Ashley Hebert and her men head off to Chiang Mai, Thailand where they go on a group date where they take part in Muay Thai, a type of fighting sport. Ames is sent to the hospital with a concussion, but returns later that night for the rose ceremony.
Brooks on Desiree's Season
During an innocent practice session with the National Dodgeball League, Brooks Forester was rushed to the hospital with a broken finger, you know, before he dumped her on national television during the finale.
Graham on Bachelor in Paradise
AshLee, Graham's girlfriend (sort of) on the show, said some nasty things about Claire and because Michelle Money loves drama and Graham, she tells him. He then gets sick at the rose ceremony. Although there's no ambulance called, he pukes and has a mini panic attack.
Lacy on Bachelor in Paradise
Lacy gets sick in paradise and starts throwing up. I mean we can only assume that everyone is drunk the whole time right? She probably got dehydrated and sick, which makes sense, but she was taken to the hospital where she rested with Marcus, now her fiancé, by her side.
Chris on Bachelor in Paradise
Chris Bukowski sprains his knee doing Bukowski things and decides to leave the show because of it. At the time he was seeing Elise and asks her to leave the show with her and she accepts his offer.
That Crew Member on Bachelor in Paradise
This is possibly the most interesting injury on the show. Someone on the production crew on Bachelor in Paradise was hooking up with Michelle K. and when someone knocked on the hotel room door, he jumped off the balcony and broke both of his feet. I mean… commitment. Right?
Images: Rick Rowell/ABC