Leeza Gibbons Should Win 'Celebrity Apprentice'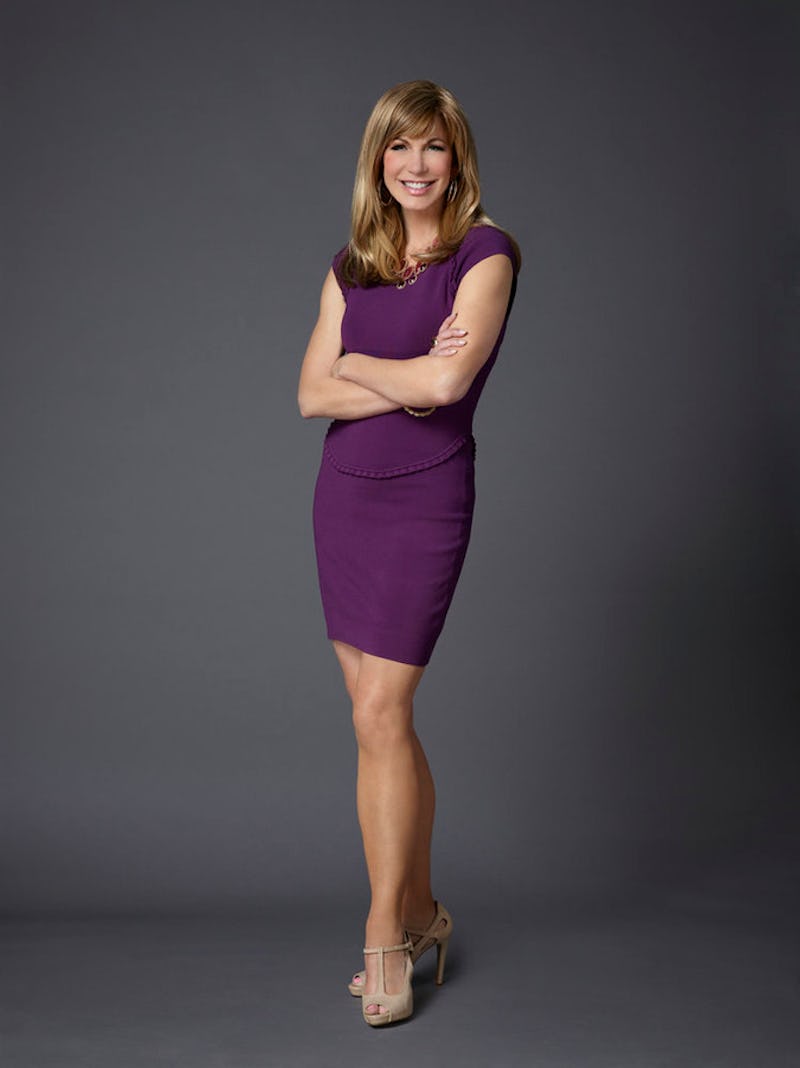 It's the final countdown! We're down to the final three on NBC's Celebrity Apprentice , which means either Vivica A. Fox, Leeza Gibbons, or Geraldo Rivera will win the 14th season of the reality show where Donald Trump loves firing people. But we're down to the wire here and it's almost time to crown a winner and in my opinion, Leeza Gibbons should win Celebrity Apprentice , because, well she deserves to.
Not only has she demonstrated great leadership, stepped up during any and all challenges, and remained civil to all contestants, but she's also received praise from fellow teammates and Trump himself. Since the very beginning, Gibbons has held a top spot, and I'm pretty sure viewers have known that she would make it to the finale. Someone with her smarts, savvy, and power stance is more likely than not to make it to the finals. Gibbons has been sitting pretty at the top from the beginning, but that also doesn't mean she hasn't earned it or worked for it because she surely has.
With that said, let's break it down why Gibbons should and will become the champion of Season 14:
She's Demonstrated Great Leadership
From stepping up as Project Manager to making a ton of money for her reputable charity to showing leadership on all of her teams, Gibbons has gone above and beyond to do well and ensure she and her team members become winners.
She'd Add Another Female To The Winners List
Gibbons would be only the second woman to win Celebrity Apprentice, with Joan Rivers being the first. Piers Morgan, Arsenio Hall, John Rich, Trace Adkins, and Bret Michaels, have also won, so, yeah, it'd be great to see her take home the win. Yes, I'd dance with excitement just like Ian Ziering.
She's Avoided Drama and Is Well-Liked
Unlike some of the other contestants (ahem...Kenya Moore, Brandi Glanville, and Fox), Gibbons has avoided the drama and focused on getting the task completed. Also, everyone loves her, so she has that in her favor.
She's Had Great Ideas
Whether Gibbons is the Project Manager or not, she has contributed many great ideas that have even turned into winning ones. She's the go-to for any task, and she also remains humble throughout the process.
Everyone Wants Her On Their Team
As we saw in one episode, Gibbons was the first pick to join Rivera and Fox's team. Plus, Gibbons' former team didn't want her to leave, because, well, she's done so well and is a huge asset.
Other Contestants Have Said So
Other contestants, who were fired, have said Gibbons should win. For example, Shawn Johnson told TheWrap, "I bet Leeza Gibbons will win. I put my money on her. She's a class act and a brilliant businesswoman." Even though former player Lorenzo Lamas thinks Rivera will win, he believe Gibbons is one amazing individual, "I'm really pulling for Leeza. She's such a classy, noble and intelligent woman. She has the financial resources to go all the way and the creative ability to take her to the finish. I was only sorry we didn't get a chance to be on the same team."
Good luck, Leeza!
Images: Patrick Randak/NBC; realitytvgifs (2), sidewindervx, mrpunk2u, bricesander (2)/Tumblr