2015 Grammys Prove 'Frozen' Isn't Done With Awards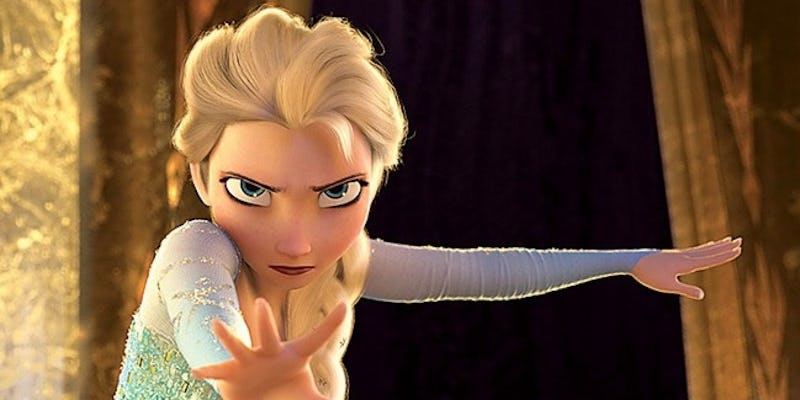 Well, Frozen just won two awards, and no, you haven't accidentally stumbled across an article from a year ago. It is 2015, and Frozen won two Grammy awards — before the show even started. The Frozen soundtrack won Best Compilation Soundtrack for Visual Media, while "Let It Go," the song that just won't give up, took home the prize for Best Song Written for Visual Media. I know what you're thinking, "how is that even possible? Didn't I watch Idina Menzel perform 'Let It Go' at the 2014 Oscars? Weren't there Frozen memes for blizzards last winter?" Yes, all of those things are true, but because of the Grammys' wacky eligibility deadlines, Frozen scored three nominations at the 2015 Grammys, and won two of its categories.
What category did it lose? That'd be Best Score, which went to The Grand Budapest Hotel, a movie that is actually eligible for other awards this season, as opposed to Frozen, which we had all thought was done racking up trophies last year. The Grammy's schedule works pretty differently from the other major awards shows. Any album released between Oct. 1, 2013 and Sep. 30, 2014 can be nominated, and since Frozen was came out on Nov. 2, 2013, it's smack-dab in the middle of that eligibility period.
But don't worry, these should be the last awards Frozen wins. Well, until it becomes a Broadway musical and then starts picking up Tony Awards left and right. Still, we have at least a year before that happens! Oh, and I guess it could win some more awards next year for its quasi-sequel, the short Frozen Fever, which will play in theaters before Cinderella.
What I'm basically saying is, Frozen is forever. If you're a fan, congrats! You'll get to watch your favorite movie be lauded until the end of time. If you're not a fan... Just get on board. Elsa, Anna, Olaf, Kristoff, Sven, "Let It Go" — none of them are going anywhere. It's better to give in and let your heart thaw than keep fighting the inevitable.
Image: Disney