Laurel Teases 'HTGAWM's Big Arrest... In Emoji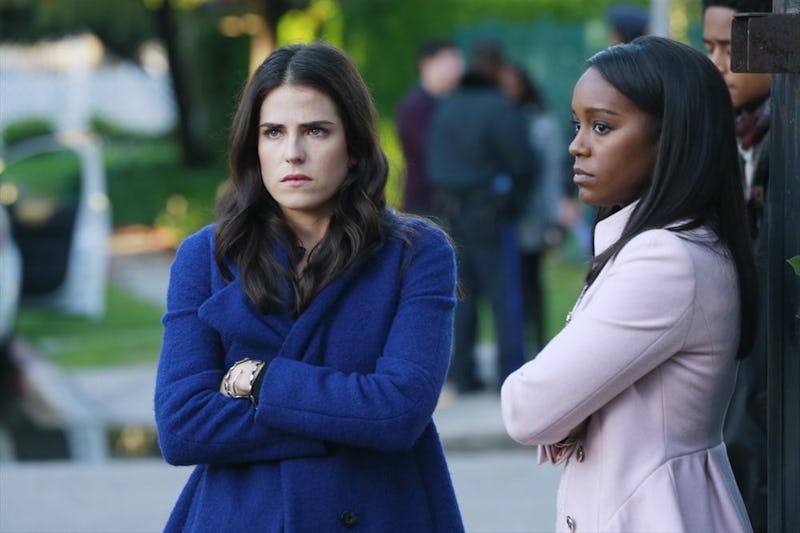 With only a few episodes left until its Season 1 finale, ABC's killer drama How To Get Away With Murder is pretty much all anyone can talk about these days. Not only has the series become one of the hottest breakout shows this season, but it's also completely changed the game of Thursday night television in general. And while a portion of that has to due with Shonda Rhimes' uncanny ability to produce hit after hit, HTGAWM's success can also be greatly attributed to its dynamic cast of characters, including Karla Souza, who plays Laurel Castillo. Bustle was lucky enough to chat with this breakout star, who gave out some juicy teasers in the form of HTGAWM season finale emoji spoilers. And boy-oh-boy does this finale sound like a doozy. In fact, it's even looking to top their midseason cliffhanger, especially since it at some point leads to an actual arrest for Sam's murder!
"They find a clue in the woods that leads to someone being arrested," Souza tells Bustle. Of course she made sure not to specify what it is exactly that gets found, but does anyone else think the object in question could be Michaela's missing engagement ring? We know that particular piece of the puzzle has to come back to haunt them eventually. However, it's not just evidence the Keating Five will have to worry about, but rather Annalise herself and where exactly her loyalties lie.
Souza teases that it becomes unclear "whether or not the students now trust that Annalise is now out to protect them or the opposite," which will have everyone's nerves hitting a breaking point. But one thing's for sure, viewers will be dying for more… so to speak, of course. "The two-hour season finale is breathtaking, bittersweet; it's revealing. People will want a Season 2 immediately, that's what I can say," says Souza. (I don't know about you guys, but personally, I'm already there.)
Though, if you're still having doubts as to whether or not the HTGAWM finale will be a jam-packed hour of truly epic television, we asked Souza to try and describe the remainder of the season using only emojis, and here's what she came up with:
Seems like we're all in for quite the roller coaster of emotions that will leave us equal parts shocked and in tears (but in the best way possible). Seriously, is it time for Season 2 yet? Please, Shonda? You're killing me here.
Images: Mitchell Haaseth/ABC (2); Kelly Schremph