Justin Timberlake Be an 'SNL' Cast Member Already?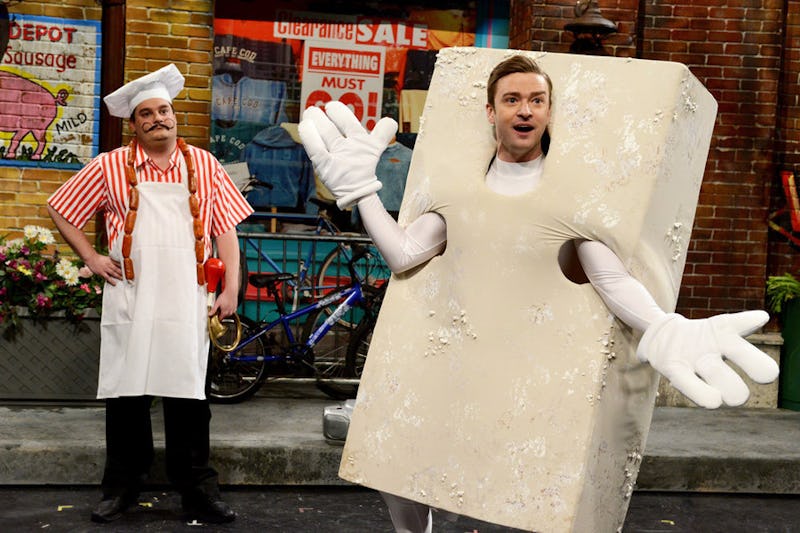 With the sure to be hilarious Saturday Night Live 40th Anniversary special upon us, we can expect some of the greats of SNL to return to the stage and make us laugh. I'm talking Bill Hader, Kristen Wiig, Eddie Murphy, Tina Fey, all the names you dream about returning to SNL are returning to SNL. And while welcoming back old cast members might be a large part of the 40th Anniversary special, there are also other big names that weren't cast members that will be returning to Saturday Night Live , like Justin Timberlake. Timberlake has proven, over the years, to be a natural when it comes to SNL, so why isn't he a cast member?
JT has hosted Saturday Night Live five times over the course of 10 years. That puts the musician in the coveted Five Timers Club, which is only occupied by a very select few entertainers. He has shown that he is more than just music, basically begging me to throw out the suggestion that he become a cast member. And while I know he is way too busy doing his Justin Timberlake thing to become a cast member of Saturday Night Live, I would like to support my claim that he would be the best cast member ever with these five videos (are you listening, Justin?):
Talking It Up... On The Barry Gibb Talk Show
In this political talk show sketch that Jimmy Fallon and Timberlake have made a staple of their SNL time together, the two men play Barry and Robin Gibb. From the opening song number, that is sure to get stuck in your head, to his Robin impression, JT proves he can become an entirely new (and known) person with the addition of a white wig.
He Can Brrrring It On Down All On His Own
Although Timberlake and Fallon are magic together (see: Wrapville), Timberlake can also do his own thing without Fallon's help. In his monologue, he "inadvertently" gives the audience exactly what they want with a hilariously cliche song.
He Can Cry Himself That River
What better person to make fun of "Cry Me a River" than Justin Timberlake?
He Gives Great Christmas Gifts
Not only is this one of the most memorable digital shorts the show has ever done, but it won an Emmy! Shows that JT (and a "D*** in a Box") can take over the world!
He's One Of Beyonce's Dahncers
Because "he's a dancer."
Image: Dana Edelson/NBC