Cinnabon Offers Free Treats For 'Saul' Fans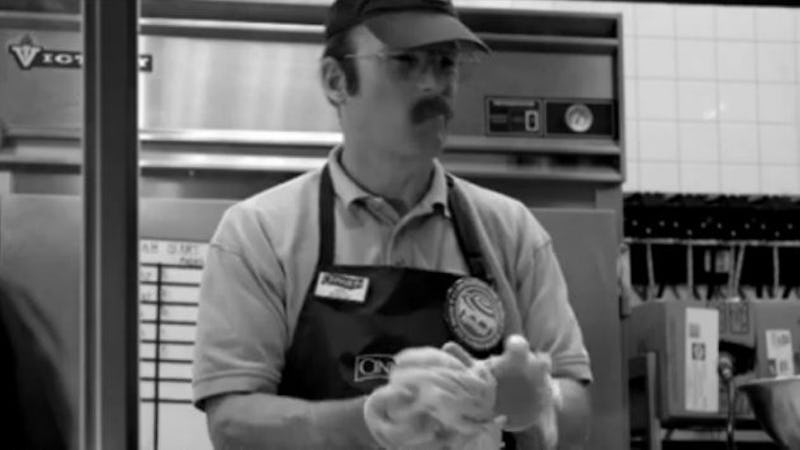 If you watched the premiere of AMC's Better Call Saul on Sunday night, you know that crooked lawyer with a good heart Saul Goodman (née Jimmy McGill) has fulfilled his final destiny that he longed for at the end of Breaking Bad: "If I'm lucky, a month from now, best-case scenario, I'm managing a Cinnabon in Omaha." And manage it he did: in the beautiful, sad opening to the Breaking Bad spin-off, there indeed is Bob Odenkirk as Saul Goodman disguised as a man named Gene with a thick mustache and a propensity for making sickeningly sweet, dangerously delicious 'bons. And in a display of sheer self-deprecating genius, the actual Cinnabon will offer free Mini-bons on Monday February 9th from 5 PM to 9 PM local time, if you too want to feel as alienated and sad-clowny as Saul. Because, like I said, it's free!
Cinnabon has been an unlikely but amazing partner in the release of AMC's Saul: they even allowed Vince Gilligan and crew to shoot the monotonous, dreamy scene at one of their locations in Albuquerque for true authenticity. Besides the free Mini-bons, Cinnabon is also offering a chance to win a bunch of prizes (including a lot of money to spend... at Cinnabon) for users who visit one of their stores and take a picture of themselves, hashtagging it #SaulSelfie. They promoted today's Mini-bon giveaway and the #SaulSelfie campaign heavily on their Twitter, which is following Denny's in this new-fangled revolution of big companies' social media teams trying to stay ""on fleek.""
I gotta give a shout-out to Cinnabon, not only for being despicably delicious but for being able to laugh at themselves and ride on the Saul fame wave. If they can profit, why not? Even if the show makes their company look like the sad, bleak end of the road for a man who once knew a more exciting life. Their free Mini-bons will come in "Saul-themed packaging," whatever that means. Probably got a few tears of a clown in the icing.
For some reason, I am loving this partnership between Cinnabon and Better Call Saul, whether it be for Cinnabon's embrace of the irony and mockery that Saul uses it for to make a comment on consumer-culture and the American dream, or because Vince Gilligan said that Bob Odenkirk had real training at a Cinnabon to make the intro look as authentic as possible. Either way, you can't spell Cinnabon without Saul.
Image: AMC