Who Are The Final 2 On 'Celebrity Apprentice'?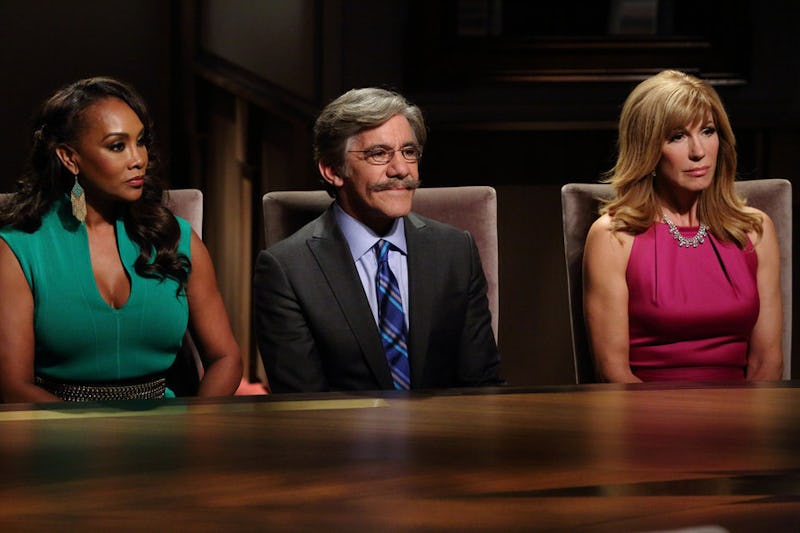 Who's going to the finale? On Monday's Celebrity Apprentice, Vivica A. Fox got fired, which means Geraldo Rivera and Leeza Gibbons made it to the final two. Does this really surprise anyone? I think we can all safely say that from the very beginning Rivera and Gibbons have been the top two competitors. Don't get me wrong, I think many other contestants, including Kevin Jonas, Ian Ziering, Brandi Glanville, and Fox (who exited the show gracefully, might I add) all played a great game, but Rivera and Gibbons have always been the favorites and the most obvious finale players.
Despite continuously bumping heads with a lot of his team members, Rivera could never do no wrong in Donald Trump's eyes. Plus, he brought in a ton of money for a bulk of the challenges. As Ziering said, who ironically is helping Rivera on his final task, he gave Rivera such a hard time, because he knew he was the one to beat. Did anyone not expect Rivera to be in the finale two? Yeah, I didn't think so.
As for Gibbons, I'm not shocked she's also fighting for the first place position. I'm also very happy that she is one of the final two. Not only has Gibbons worked well with pretty much every other contestant, but she's also well-liked. Ever since the beginning, she's been a strong competitor, has raised a lot of money, has contributed a ton of great ideas, and, most obviously, has been a great leader. Even Glanville agrees, who said during Monday's episode that Gibbons has "never not given 100 percent." Well said.
Even though everyone who joined Season 14 wanted to be the winner, I think it's safe to say that the cast also isn't super surprised that Gibbons and Rivera made it to the final two.
With that said, who am I rooting for? Sorry, Rivera, but Gibbons has my vote. Unfortunately, we have to wait until next week for the live two-hour finale to see who will be crowned this season's winner.
Images: Douglas Gorenstein/NBC