'Saul's Got A 'Breaking Bad' Baddie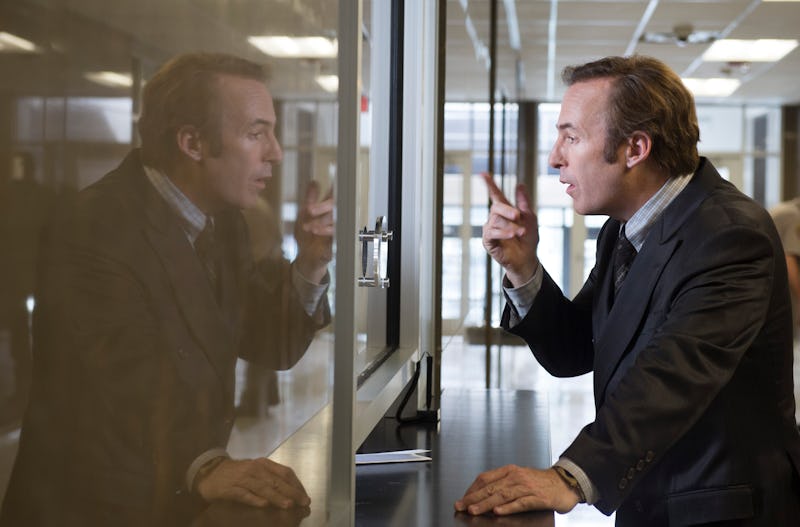 Tonight's second outing of the two-part premiere of Better Call Saul brought Jimmy to the desert where he faced off against Breaking Bad's Tuco (YEAH! TUCO!). Jimmy actually negotiates with Tuco as to what he's going to do with the two skateboarding mopheads who called his grandmother a "bizznatch." Tuco decides to only break the kid's legs, after a pretty heated back and forth between him and Jimmy. And now, it looks like Jimmy is always going to be looking his shoulder for Tuco's thugs. It might just be the overly-exciting Breaking Bad connection, but how much Tuco can we expect from Better Call Saul ?
In an interview with The Hollywood Reporter, showrunner Peter Gould mentioned that when they were thinking up antagonists for Jimmy, they wanted "the worst possible person. We probably said, 'Well, if it were someone like Tuco …' Then, why should it be someone 'like' Tuco? Why not Tuco?" His shocking cameo at the end of the pilot episode of Saul was completely unexpected, since the last time we saw Tuco he wasn't doing so well. Now, on a completely different timeline, Tuco's free — and very much alive — to return to Albuquerque. He's still played by Raymond Cruz, who is fiercely devoted to his grandmother. We didn't see that during Breaking Bad.
So just how much Tuco can we expect to appear on Saul? From the looks of it, a lot. Jimmy leaves Tuco telling him that if he ever needs a lawyer, to find him. Tuco's already up to something, and and that something is probably selling meth. It'll be nice to have a lawyer in his back pocket should he get into trouble, and it looks like Jimmy just accidentally stepped into that role.
The episode ends with one of Tuco's guys, Nacho Varaga (played by Orphan Black's Michael Mando) approaching Jimmy with a proposition to do business together. Nacho will keep Tuco away, if Jimmy helps Nacho out when need be. Maybe not the most beautiful beginning of a friendship, but it's something. It also means that we can expect more heated bursts of anger from Tuco, too.
Image: Ursula Coyote/AMC