Ashley I.'s Breakdown Is 'The Bachelor's Fault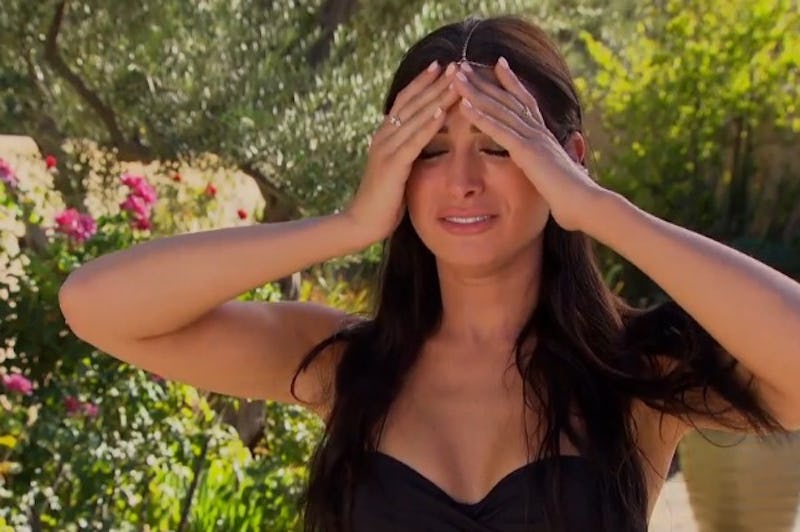 If I was ever on The Bachelor I'd be really careful what I said around the cameras if only for the reason that the producers tend to take your worst fears and make them your reality. For example, Ashley I. lamented that she wished Kelsey would just go home and she couldn't stand her and then where did she end up? On a two-on-one date with Kelsey. From the looks of things The Bachelor producers are pretty much responsible for Ashley's meltdown.
I know from my time as a Bachelor fan (and from reading Sean Lowe's book) that the producers are there to orchestrate situations. Plus, former Bachelorette Ali Fedotowsky said that on her season she let the producers pick who went home on her two-on-one because she didn't care. So they do have some say, and it sure looked like they used that say to force Ashley over the edge.
She's been emotional all season, maybe overly so, but that's no reason for the show to try to push her further. Lowe revealed in his book that often producers will suggest topics of conversation, so it's entirely possible that they asked Chris to ask Ashley about Kelsey, knowing that it would bring drama.
Even worse was the awkward confrontation the two women were forced to have on the bed while Chris was who knows where. Kelsey glared at Ashley for "throwing her under the bus," and Ashley cried about Chris having spilled the beans on what she said — it was uncomfortable for everyone.
Yes, they're on a two-on-one, but there's really no reason they needed to be left alone and forced to occupy the same bed. They're supposed to be on a date with Chris, not each other. That was just asking for trouble and the producers got it. Ashley had a full breakdown, sobbing so much that she had to ask to do her exit interview later, because she was so upset after he elimination.
This show may be for our entertainment, but those are also real people. Constructing circumstances to push a proven emotional contestant over the edge isn't cool. Ashley may have been the house's mean girl, but she deserved better than that.
Image: ABC screengrab