Britt May Leave 'The Bachelor' Next Week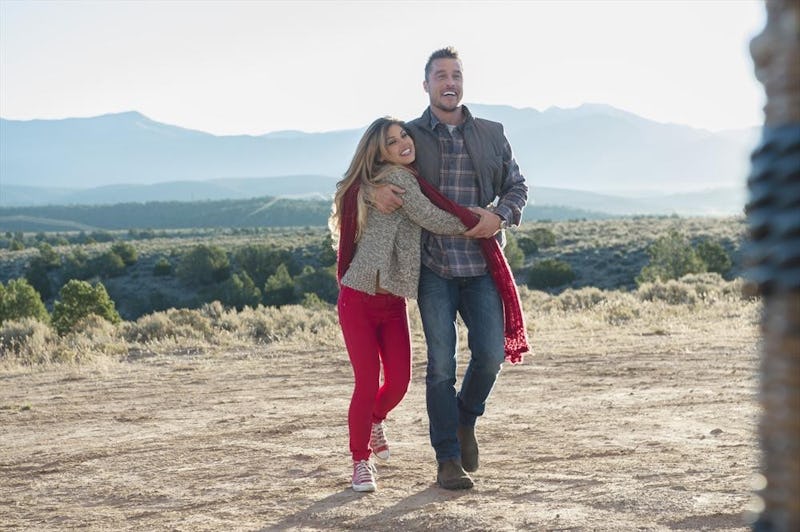 Chris Soules' worst fears are about to be confirmed in next week's episode of The Bachelor. He's finally bringing his top picks home to Arlington, Iowa for the moment of truth. Now that the women see he is actually from a farm, are they still going to want to be committed to him knowing that marrying him means they will be from a farm, too? It definitely seems like this is going to give one lady some major pause, and that lady is Britt, who — until now — has far and away the frontrunner in this competition. By the looks of the promo for next week's ep, it would seem that Britt gets one good look at exactly how small Arlington is and is ready to bolt. Now, we must ask ourselves the all important question: Is Britt going home on The Bachelor because of what happens in Iowa?
It seems that way — and by how upset she is, I think it catches her totally off guard. She's sobbing in multiple shots in the preview and seems absolutely heartbroken, so I think her feelings for Chris are genuine. I'm thinking that Britt thought she loved Chris so much that she'd want to be anywhere with him, and when confronted with the reality of what that meant, she had a major freak out. She says it herself: "I don't see myself in this town." And I can't blame her. There is nothing in Arlington. Nothing. Chris has not been exaggerating.
At this point, it's probably for the best if Britt realizes she's not cut out to be a farmer's wife now, instead of winning the competition as it would seem she's poised to do and ending their relationship further down the line. Regardless, my heart kind of breaks for her. Getting slapped in the face by reality is never a pleasant experience.
Image: Lewis Jacobs/ABC