Is Nia Leaving 'Dance Moms'?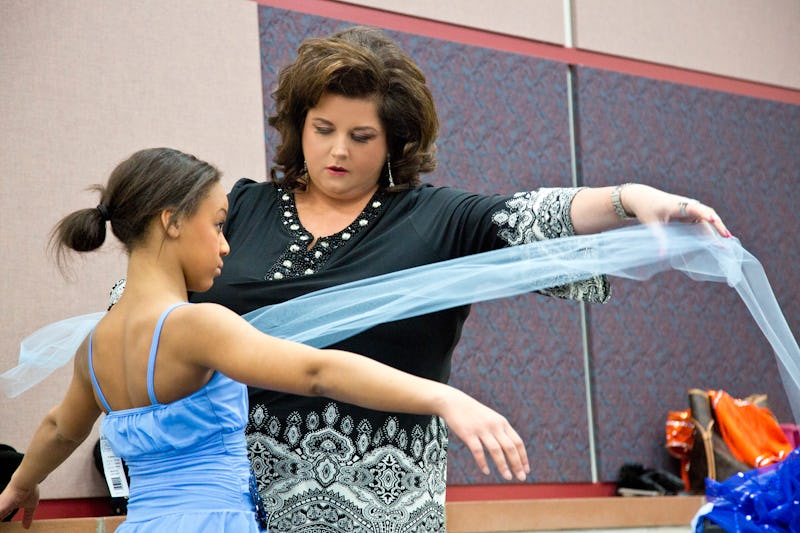 Watching Abby Lee Miller's breakdown on the Feb. 3 episode of Dance Moms legitimately stressed me out. But I didn't have to deal with it firsthand like the moms and dancers, so were any Dance Moms girls replaced after Season 5 filming ended? The dancer most likely to leave the team is Nia. Her mom Holly was furious at Abby for not being there for the team during their first competition in Los Angeles, and for criticizing Nia's audition with a casting agent. In the previews for episode six (ominously titled "Nia Risks It All"), Holly and Abby will be getting into a huge fight over Holly "going behind" Abby's back. Lifetime also wrote that the episode would have Abby announcing an open call audition for the Abby Lee Dance Company (ALDC) in Los Angeles — so is Nia really going to be off the team?
In episode five, "Hello Hollywood, Goodbye Abby," Holly had this to say about being in Los Angeles: "I am thrilled. This is great for Nia. But, at the same time, I'm very skeptical. Based on everything that happened in the last two weeks, Abby has not had Nia's best interests at heart." Considering the fact that Holly is always getting upset about Nia being pushed aside by Abby (and, er, unfortunately, it's kind of true), it's not like we can say we'd be blindsided if Nia left the ALDC.
I'm just hoping that if Holly and Nia leave Dance Moms, it's on their own terms. Holly drives me crazy, but I'd take her over Abby. As Holly says in the episode six preview above, "That little girl deserves better." Yes, your daughter does deserve better than being under Abby's insane thumb. So why are you still on Dance Moms!? Honestly, watching "Hello Hollywood, Goodbye Abby," I didn't understand why all of the moms weren't pulling their kids out of the ALDC simultaneously.
Although Nia isn't often given the spotlight by Abby Lee, the Feb. 10 episode of Dance Moms will prominently feature her. She goes to a recording studio with Aubrey O'Day (of Danity Kane fame) — and confides to O'Day about her troubles with Abby.
Nia's new song hasn't been released yet, but it's called "Star in Your Own Life." Her mother Holly posted a photo of Nia with O'Day, and songwriter and producer R8DIO, during the song's music video shoot on Feb. 5, so we should get to hear the song soon.
And the photos of the actual music video look super fierce.
Dancer Kendall has also been filming a music video, but I don't think that means she'll be leaving the team like Nia possibly is. Now, I'm not going to assume the open call auditions in Los Angeles for the ALDC directly relate to Nia. The group's number of dancers has been lower than usual, so it makes sense that Abby would be looking for new talent — but whether or not that means Nia will be there in Season 6 has yet to be revealed.
Nia said in the fifth episode of Season 6, "I'm so excited. I really want to be a singer and become a pop star. Maybe if I do well today that dream might come true." So it may be time for Nia to move away from Abby Lee and toward center stage.
Image: Karolina Wojtasik/Lifetime