18 Sneakers You Need On Your Feet Right Now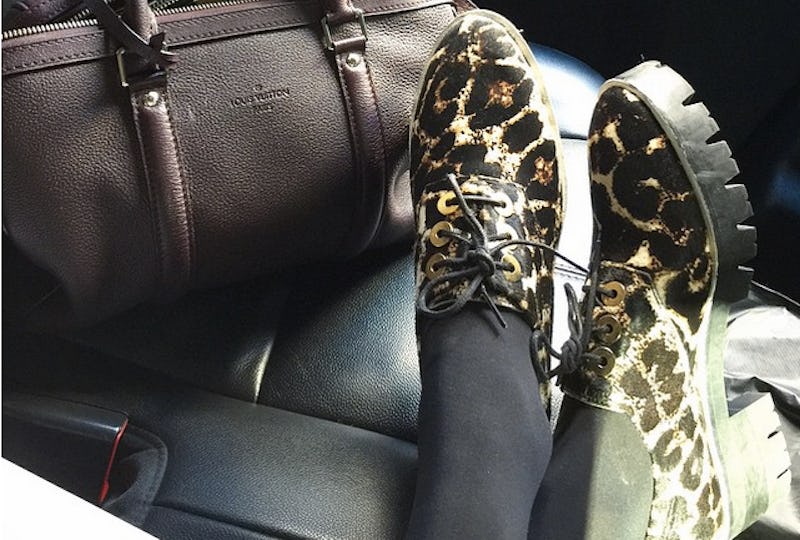 When the average person thinks of fashion, it's usually in extremes. For example: Fashion isn't a pair of flats — it's sky high heels; fashion isn't jeans — it's wide-leg pleated trousers; fashion isn't a basic white shirt — it's a metallic mesh bustier. It's easy to blame the diction surrounding fashion — words like couture or even "sartorialism" — for these spectrums. But despite how pretentious those words may sound, and despite what your friends think of your destroyed vintage t-shirt, fashion doesn't always mean the most exaggerated, ridiculous pieces of clothing. What many people don't realize is that fashion is a foundation for the expression of personal style. And clothes and accessories — no matter their shape, structure or form — are used to curate and display that sense of self.
That being said, even the most basic, unlikely pieces on the market right now can be considered stylish and fashionable. With the recent and maintained interest in the athletic trend, sneakers have become a regular in that particular category. Whether they're classic Chuck Taylors, Nike Airs, or even a pair of kicks from the latest Kanye West x Adidas collaboration, sneakers have become a staple in many celebrity and blogger wardrobes. And who better to steal style inspiration from than our favorite names to search on Google?
Thanks to the likes of Kendall Jenner, Chiara Ferragni and Caroline Stanbury of Ladies of London , there is plenty of sneaker style inspiration to be had. Elevated sneakers for the heel lovers, classic sneakers for the sophisticated and even limited edition sneakers for the trendy gal (thankfully, these kicks come in all shapes and sizes for every taste and forte). So here are 18 different styles guaranteed to get your [fashion] taste buds tingling.
The 'It' Sneaker
When these Isabel Marant babies first hit the market, they were nearly impossible to find whilst simultaneously being on everyone's feet. It seemed like every celebrity, blogger and style-savvy person had a pair and wore them every chance they got. Caroline Stanbury, English royalty and sassy star of E!'s Ladies of London, was definitely one of those people. Despite the fact that this photo is pretty old, the heels were major this time last year. They were puffy and soft, but had disguised heels perfect for stiletto and sneaker lovers alike.
'It' Sneaker Options
Guiseppe Zanotti White Lorenz High-Top Wedge Sneakers, $995, Ssense
Nike Air Revolution Sky Hi' Sneaker, $150, Nordstrom
Isabel Marant Etoile Bart Leather Sneakers, $255, Antonia
The Trendy Sneaker
Following suit of the "It Sneaker," the trendy sneaker seems to be a pair of kicks that you never thought you would wear until you grew accustomed to seeing them everywhere and decided to partake in the fun. Chiara Ferragni, Italian blogger for The Blonde Salad, designs her own shoe line from which the shoes in the above photo are from. They are high-top, cream, kind of futuristic looking — and is that velcro on the other side? While these might not be your style, you have to admit they would look pretty fly with a jeans and t-shirt outfit combination.
Trendy Sneaker Options
Etnies Senix D Mid, $35, Etnies
DSquared2 S15K510, $795, Zappos
Supra Womens Joplin, $85, Supra Footwear
The Sneaker Sneaker
Sometimes it's easy to forget that sneakers are, first and foremost, sneakers. While many designers and brands may like to deny it, sneakers were originally designed for comfort and ease when doing physical activity. That being said, wearing an actual sneaker sneaker — even when you're not working out — can make a style statement. You may own a few pairs, but you most likely reserve one for exercising and working out like Gigi Hadid. When you wear these out, your feet will thank you.
Sneaker Sneaker Options
Nike Air Zoom Pegasus 31 Flash, $115, Nike
Reebok CrossFit Nano 4.0, $120, Reebok
Adidas Pureboost Shoes, $120, Adidas
The Slip-On Sneaker
Kendall Jenner makes all kinds of style statements and is obviously a big fan of the slip-on sneaker trend. While her Givenchy pair might be a little out of budget for the average sneaker-wearer, slip-on sneakers are undeniably smart and stylish. Not only are they super comfortable and aesthetically pleasing on the foot, but they also come in a variety of colors and designs. Cute dog optional.
Slip-On Sneaker Options
Vans Unisex Classic Slip On Sneakers In Metallic Leather Silver, $60, J Crew
Women's Mossimo Supply Co. Dedra Quilted Slip-on, $25, Target
Tory Burch 'Jesse' Perforated Sneaker, $165, Nordstrom
The Classic Sneaker
Julie Sarinana of the blog Sincerely Jules knows the value of a classic sneaker. From Converse to New Balance to Superga, you know a classic sneaker when you see one. They're inevitably cool and come with a certain aesthetic that everyone can appreciate, whether they absolutely detest sneakers or cherish them. That being said, classic sneakers, unlike the aforementioned sneakers of this group, tend to be inexpensive and complimentary to many different styles.
Classic Sneaker Options
New Balance Women's 620 Sneakers for J. Crew, $80, J Crew
Superga Cotu Classic 2750, $65, Superga
Chuck Taylor Classic Hi Top Canvas, $55, Converse
The Non-Sneaker Sneaker
If you're shopping and you come across a shoe that looks like a sneaker but could also pose as a boot/moccasin/flat, you've probably run into a non-sneaker sneaker. It's the pure confusion that these types of shoes induce that makes them surprisingly irresistible. It's like the last cookie in the cookie jar; you know you have plenty of sneakers already, but this pair is just so beautiful and different that you have to have it. When your friends ask you what's on your feet, just explain the non-sneaker sneaker effect. If they're really your friends, they'll understand.
Non-Sneaker Sneaker Options
DINO Flatform Sneakers, $23, Asos
Nike Air Max 1 Apollo Lunar Pack Metallic Silver, $250, L yst
Kenzo Palm and Stripe-Print Flatform Trainers, $182, Matches Fashion
And now that you've got your fly sneakers, do a little dance.
Images: Giphy; Instagram; Courtesy Brands