6 Ways to Tell Your Parents You're a Cool Dresser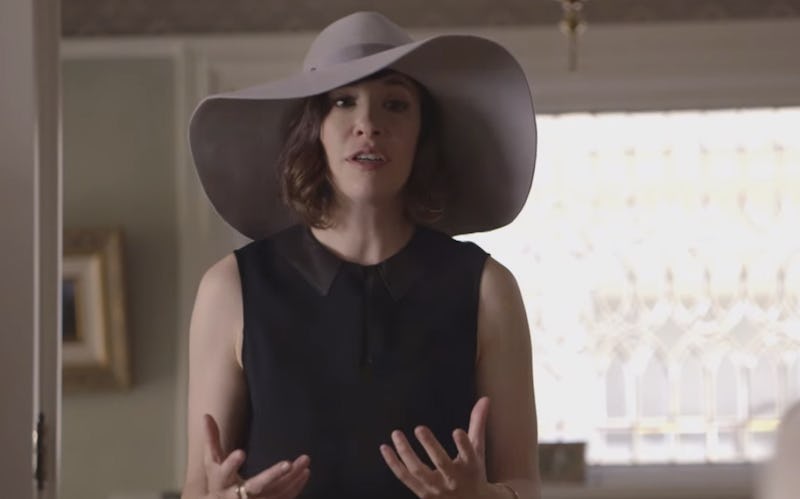 As your resident Oregonian, allow me to share with you an important how-to from Portlandia 's Carrie Brownstein, who is a cool dresser and is tasked with breaking the news to her aged parents, as must we all. But this cannot be, read their faces. Oh, but it is, say Brownstein's oversized grey derby hat, which of course complement her banded designer sweat pants. She delivers her news balanced atop a pair of strappy black peep toe sandals (a wedge, no doubt). "Sorry, I don't quite have the words for this," she sighs. We watch as her elderly father raises a wary eyebrow, preparing himself for the worst.
You, reader of Bustle's Fashion & Beauty vertical, have surely endured a similarly harrowing endeavor. Provided your devotion to a life trendsetting, you've no doubt forewarned your friends and family that your Sunday night dinners at your local Red Lobster clash horrifically with your beige tulip dress and platformed sandals. You are a product of the cutting edge, a person whose commitment to forward-thinking designs makes you a walking advertisement for the off-rack Nordstrom shopper in all of us. You get it — don't they see? Per Carrie's demonstrated bravery, a few ways they can expect some immediately noticeable changes:
1. Evening gloves
You'll be wearing evening gloves to dinner. They'll adjust.
2. Unreasonably expensive basics
You, a student of the glossies, will probably pay an exorbitant amount of money for a basic t-shirt bearing on it only one word. It's an investment piece. Look it up.
3. Authentic leather jackets
You will own a motorcycle jacket but no bike, because that's simply the cost of entry in this cruel world of designer merchandise. And besides, wind blown hair is for peasants.
Carrie is all of us. May we all worship at her beauty altar.
Image: PortlandiaTV/Twitter