Pantone's Fall 2015 Color Report Has a '70s Vibe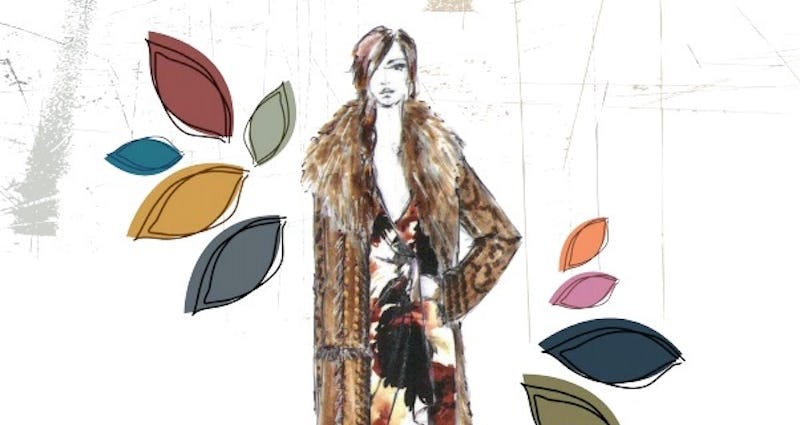 In case you're looking ahead to what you'll be wearing come October, Pantone's got your back. The color company has just released their Fall 2015 Fashion Color Report, and there's a strong '70s vibe happening in the mostly muted, versatile palette. As much as I've tried, I've never been into bright colors, so maybe this is a sign that the hues I wear will actually be in style in a few months.
The colors are decided by the percentage of designers that use them in their Fall 2015 collections. There's a separate color report for men's and women's fashion, but recently, there's been more and more overlap between the two.
"The Fall 2015 palette is rooted in multi-faceted, androgynous colors that can be worn to portray effortless sophistication across men's and women's fashion," said Leatrice Eiseman, Executive Director of the Pantone Color Institute. "It is the first time we are seeing a truly unisex color palette."
We'll be watching for these colors to pop up on the upcoming Fashion Week runways and then in stores across the country. If you want to get a head start, though, here's what you can snag now in the top 10 colors for fall. The early bird gets the... marsala?
Dried Herb
This sage-y hue is both calming and earthy, and it feels just a touch brighter than a classic olive shade.
Shop now: Open Back Jumpsuit, $91.71, asos.com
Marsala
Unsurprisingly, Pantone's rich and sophisticated Color of the Year made it high on the list.
Shop now: New Look Crepe Duster Coat, $55.01, asos.com
Biscay Bay
The brightest color on the list, Biscay Bay is a great transition hue as you mourn the end of summer. (Not that I want to think about that before we've even gotten there.)
Shop now: Go Overboard Nail Polish, $8.50, essie.com
Reflecting Pond
"Reflecting Pond is a serious shade that speaks to the need for stability and security," according to the report. If there's one thing I can have stability and security in this year, I'm fine with this being it.
Shop now: Faux Leather Skirt, $59.90, zara.com
Desert Sage
More natural than a mint tone, desert sage is a fresh addition to a fall wardrobe.
Shop now: Jasmine Body-Con Midi Dress, $36.68, asos.com
Stormy Weather
I'm down with having a 51st shade of gray in my closet when it's this lovely.
Shop now: Gray Bomber Jacket, $34.90, forever21.com
Oak Buff
Although I've never been a yellow girl, I can get on board with this warm, dijon-esque hue (if it reminds me of food, I'm pretty much sold.)
Shop now: Short Dress, $24.95, hm.com
Cashmere Rose
"Cashmere Rose displays a gently persuasive and composed pink that is more upscale than downtown," says the report. No word on whether this color will only be used in cashmere pieces.
Shop now: Fluffy Sweater, $21, dorothyperkins.com
Amethyst Orchid
Fun and vibrant, Amethyst Orchid would be fabulous as an accent color or a bold main piece.
Shop now: Monica Vinader Cord Bracelet, $78.75, theoutnet.com
Cadmium Orange
Remember what I said about colors that remind me of food? This hue could be renamed tropical sherbet in my book. I can't decide if I want to online shop now, or if I'm just hungry.
Shop Now: The Fifth Label Tank, $30, revolveclothing.com
Images: Pantone; Courtesy Manufacturers