'50 Shades' Takes Itself As Seriously As It Should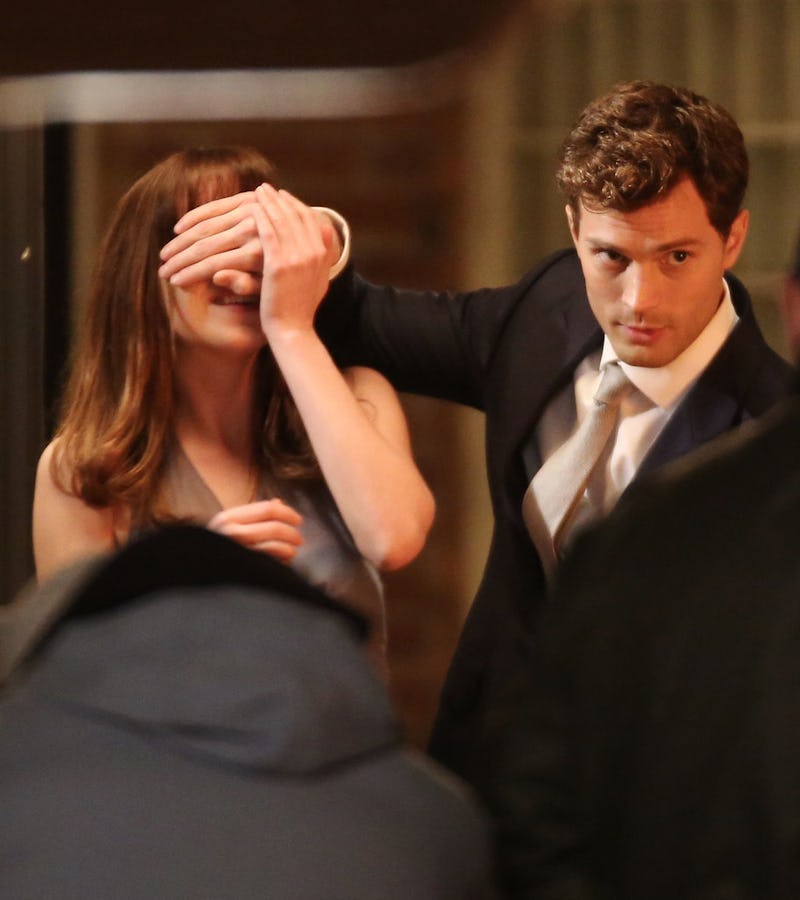 I walked into Fifty Shades of Grey expecting to laugh — I know I'm not alone here. So many of us undertaking the film are doing so under the pretenses of camp, irony, and the great American pastime of hate watching. While a good many fans will file into theaters to see the sensual evocations of E. L. James' novel brought to the biggest screen within driving distance, they will undoubtedly cohabitate these packed theaters with those just hoping for cheap, gaudy laughs at the film's expense. But those aren't the kind of laughs anyone is most likely to get.
On paper, my expectations were met: I laughed. The laughter kicked off even earlier than expected, mere moments into the film as substitute interviewer Anastasia Steele (Dakota Johnson) began her introductory conversation with business icon Christian Grey (James Dornan). But it took one or two chuckles before I realized exactly why I was laughing. It's because the movie was… funny.
Not corny, not ridiculous, not embarrassing, not insultingly stupid. Genuinely, intentionally funny. I won't quite liken Kelly Marcel's screenplay to the comic grandeur of Sid Caesar, but it's got wit. It pares through its veneer of tension and erotic bravado early on with jokes — the visual (Johnston's quivering realization that she has neglected to bring a pencil to her interview), the dialogical (her drunken assertions of pride and befuddlement during a night out with friends a few scenes later), and the wisely self-undercutting (Dornan's awkward admission that he enjoys "various physical activities").
In the latter case especially, it became clear to me that the film knew exactly what kind of audience it was dealing with — the kind just looking to poke acerbic holes through its cloud of self-unawareness. But it beats us all to the punch, poised early on with a joke that lets everyone watching know just how aware this movie actually is of its accessibility to ridicule.
And like that, it absolves itself of the risk. Gags continue, painting Anastasia as an unexpectedly agent goofball whose earthy silliness knocks the source material's brazen premise down a few pegs. The humor makes of the cool Christian Grey, the ostensible demigod commanding the traction of the popularly steamy novel, a romantic lead not above his moments of bumbling. He's regularly bested by Anastasia and — even if only on a small scale — by his impressive mother (Marcia Gay Harden) and his hard partying brother (Luke Grimes). And that's important. The fallibility of Christian's façade — again, even in the most trivial of instances — speaks volumes of this film's understanding of what it needs to be.
It can't be the impossibly sexy fantasy epic that took form as its source novel's reputation; even toeing that line would render Fifty Shades a victim to its own self-seriousness, punished mercilessly with reappropriation of sincere line readings and meme after meme after meme of earnest set pieces burst asunder. Shockingly, the movie knows that. So it calls to life something rather unexpected: its humanity.
While D.O.A. Dornan's Christian Grey could stand to undergo a few additional rewrites with this maxim in mind, Johnston's Anastasia and the world she brings to her perpetually suited beau gets the gambit right. Sleek and steely though James' story may be, it amounts big screen life best as something a little bumpier. Johnson's marriage to her character's imperfections, and the movie's devotion to those of its very own premise, are, in fact, what make these things so effective. And the best vehicle Fifty Shades has for transporting this affably jagged conceit? Its sense humor.
That altruistic sense of humor that allows for immediate laughter at gawky Anastasia, at buttoned-up Christian, and at the sexual conquests undertaken by the pair. Meet cutes, stammering reunions, dates, fights, and contract negotiations alike all play welcome host to this thoroughfare of self-effacing comedy. For those expecting something smooth and metallic, trust me here. This sense of humor doesn't steal Fifty Shades' authenticity. It supplies it.
Images: Universal Pictures (3)