9 Ways To Achieve The Ultimate Sneaker Chic Look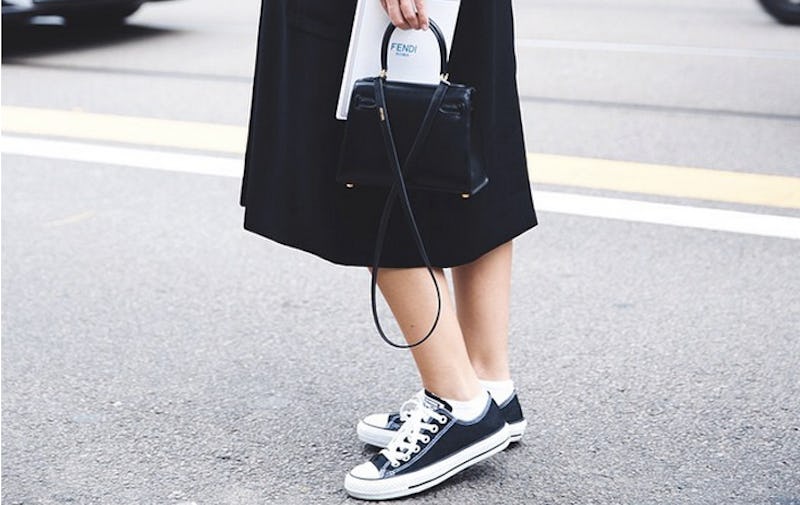 You know the type of girl: The one sitting across from you on the train, with messy bedhead hair that looks intentional and not "my snooze never went off." Unlike yours. Clearing your throat, you self-consciously pat your ponytail as you move on to some other people watching. Like the guy with the Dharma Initiative bag hanging over his shoulder. Hello, 2005, I haven't thought about you in a while.
But wait, there's more to her amazingness than you initially realized. She's been drinking coffee for the last 10 minutes and her lipstick is still stubbornly red. No fade in sight. Not even a glimpse of lip liner. Sorceress.
And is she really pulling off the teddy bear coat without looking like one of the Muppet's extras? But how? Now you're just blatantly staring at her, trying to figure out how she's doing this. And that on her feet? Those white slip-on sneakers, going wonderfully with her pleated mini? She should look like she's commuting to her way back to the set of Working Girl, but she just looks... good. She looks effortless and comfortable and not like she'll be using the word "toots" at any moment now. My god, who is this beautiful creature?
Your developing girl crush aside, you might not be able to make your lipstick stay after a few rounds with your morning coffee, or pull off a statement coat like it's no big deal, but you can find a way to incorporate sneaks into your look. It's not just for fashion people anymore. They've worked and played with the trend enough to see what works and what doesn't, and now they're passing down their key styling rules to those of us who are a little more shy with our mix and matching.
Below are nine fool proof ways to try sneakers with your style. Give them a go and just wait: Soon you'll be the one some girl is side-eyeing on the train.
1. Pair Them With A Flirty Dress
We're constantly looking for ways to dress down our fancy frocks and a great way to do just that is to tone them down with some casual footwear. Take one of your shorter, flirtier numbers and pair it with some clunky sneaks or simple tennis shoes for a playful contrast.
2. Contrast Them Against An Elegant Coat
You know that coat you only bring out when you're going into the city for the theater, or to spend the equivalent of rent money on dinner? Well give the coat some air time in your day-to-day life by pairing it with a pair of classic Chucks or lace-up sneakers. The stark contrast will be unexpected, but as long as the shoe is unfussy and a darker color, it'll blend the two looks seamlessly.
3. Go Metallic
Maybe you don't feel quite right pairing the shoes that you have on reserve for sweatpants with your more elegant pieces. That's understandable; it could take some time getting on board with such loud contrasts. Soften the polarity between polished and casual by choosing sneakers in a more luxurious style, like ones with a metallic sheen or ones made out of pony hair. The luxe touch will help the shoes blend more easily with any statement coats or dresses.
4. Pair With Your Faux-Furs
If you're going for fun, unexpected pairings, try matching your kicks with a chic fur coat or vest. You can keep the bottom half casual with some cuffed, loose fitted pants, or more polished with dark wash skinny jeans. In either way you'll go, the statement of the fur will help elevate the casualness of the lace-up shoes on your feet.
5. Go With Flatforms
If you feel like the athletic style is just never going to be your thing, go for a different variety and try flatform sneakers, instead. Their thick soles add a little something extra to a casual jean and trench look, while letting you experiment with the sporty style. But make sure you choose ones without laces to avoid looking like you're paying homage to the Spice Girls years! Ain't nobody need that kind of spice in their life.
6. Match Against Leather
For some instant cool-girl vibes, pair your kicks against leather, whether it be pants, pleated midis, or jackets. The texture will elevate your outfit into chic territories, and the sneakers will help keep the look casual but in a more unexpected way. Especially since, usually, the go-to footwear for a look like this is usually a pair of chelsea booties.
7. Contrast With Fancy Midis
The great thing about the sneaker trend is that it looks so effortless when mixed with high and low. You would think that your trainers wouldn't look good with your high-end closet pieces, but here we are. Dust off some of your more elegant evening skirts and pair them with your sneakers to help make them weekday appropriate. But use some caution with the mix and matching — not all gym shoes are created equally. For more ornate skirts, go with a more minimal shoe; one without laces or one with a flatform for a sleeker touch. For free-flowing midis like this one, feel free to go with sportier or clunkier choices, keeping the top half of the outfit relatively casual to match the shoes.
8. Try Subtle
If you don't feel brave enough mixing your evening wear with your trainers, then go towards a different, subtler route. Instead, try pairing the sportier shoe with any outfit you'd be comfortable wearing with flats. So your casual skirt-and-cardigan looks, your summer dress outfits, or your jeans-and-striped-top ensembles. It'll be a softer way to wear the style, but it'll still give your look that same playful, sporty edge.
9. Mix With Delicate Styles
Do you have those summer dresses with the super delicate straps or the sweeping low-cut backs? They're meant to be casual and wonderfully beachy, but sometimes you can feel a tad... exposed. Give yourself the semblance of more coverage by pairing the look with a heavier shoe. Choose bold trainers or thicker flatforms to drag the eye downward, balancing out the delicateness of the dress.
Images: Instagram/Courtesy Users