Presenting The Best Trend From NYFW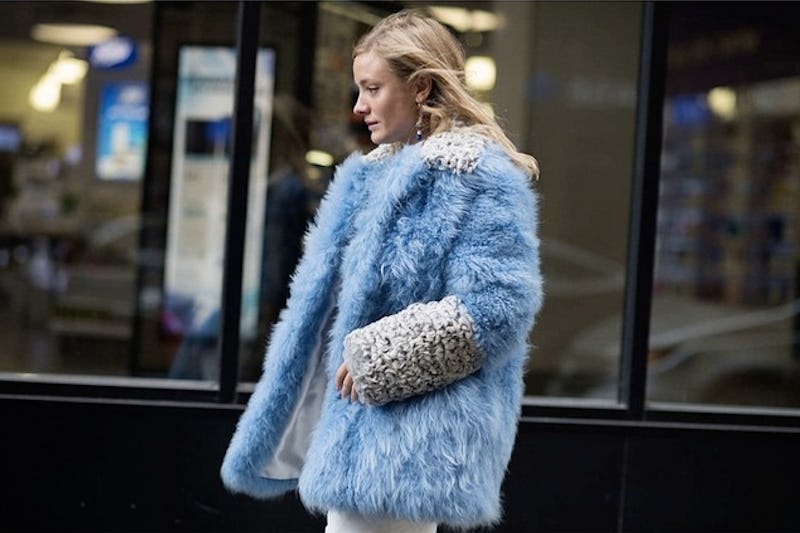 Oh NYFW: From the outrageously over-the-top looks to the insanely creative collections and must have, straight-off-the-runway wearable fashions, you never disappoint. Bi-annually you bestow upon your legions of loyalists a plethora of star-studded front rows, unforeseen fashion mishaps, crazy catwalks, the strongest of street style games, a brand new crop of statement-making trends and a handful of inspiring top talent to immediately begin following on social media. You are certainly exhausting, causing the industry's elite to scurry about the Big Apple while the remainder of the world scours Instagram and Twitter until all hours of the night, but we love you and the Fall 2015 installment was nothing short of a cavalcade of epic runway moments. Yet, the breakout trend of the season just may have come from the street style alliance, proving that the pre-show boasts almost as much power as the main event.
The runway has been officially worked with designers turning it up yet again this season. The black tie gown and the party dress stole the spotlight, with shimmer, sequins and anything the produced a sparkle adorning dresses from Zac Posen to Rodarte and Marchesa — anything that didn't literally shine, figuratively appeared from a fairytale. Tommy Hilfiger presented in one of the most creative spaces of the week, his models strutting their stuff across a faux football field, while he proved, yet again, his mastery of preppy, sporty, collegiate styling. A range of fashion icons — Michael Kors, Alice & Olivia, DVF, Alexander Wang and Carolina Herrera, to name a few — proved their staying power, while Public School became the new "It Boys" of fashion and Marc Jacobs closed out the week with a finale show that embodied the adage "saved the best for last." Needless to say, old and new talent brought their A-game for eight days of trend setting that we won't soon forget. So then, is it possible that the most adorably fuzzy, unforgettable fashion trend has come to us from the pre-show catwalk du pavement? Of course it is, because street style stars are like burgeoning peacocks in a battle for snapshots and the competition to stand out is fierce.
This year, fashion's cool kids have brought us #muppetchic and I am officially obsessed. First of all guys, the trend is called "muppet chic," which is so nostalgically cool kid-esque that I was ready to participate in the style statement before I even realized what apparel went along with the hashtag. Yet, I promise the fashion is just as unique and fun as the label it has been given. With frigid temperatures (read, absurdly arctic conditions pushing people to their breaking point) likely serving as partial inspiration, influencers flocked to shows wearing their biggest, boldest fur coats in bright colors and non-traditional patterns. The body-enveloping silhouettes in various fluffy, fuzzy, long-haired fabrics kept show goers warm, stylish and inspiring a new trend reminiscent of some old puppet friends. You may not have thought you could covet anything more than those designer duds from your favorite runway, but the street's elite are here to turn your attention to #muppetchic.
Eva Chen's Bold Big Bird And Black & White Striped "Fluffmonster"
Refinery 29's Cotton Candy Care Bear
Teen Vogue's Animal Instrinct Muppet Twins
The Blonde Salad's Fury Fendi And Warm Green Dream
Man Repeller's Teddy Bear Overcoat And Chevron Zebra Vibes
Kerry Pieri's Pale Pink And Purple Fur Fringe
Kate Foley In A Sandy Liang Furbaby Blue Sneak Peek
Furry and amazing and all things fun, adorable and warm, right? A functional trend that also brightens up the winter blues — you win fashion week streets of NYC. Boom.
In all fairness, while members of the fashion week crowd were rocking #muppetchic BTR (before the runway! it could be a thing...) monster-like furs were spotted within several notable collections, which could mean the fashion stars have aligned and fuzzy is the new black (please, oh please!).
Michael Kors Deep Blues
Altuzarra Pretty In Pink
Cushnie Et Ochs Green With Envy
Tibi Dusty Rose And Cool Gray
J. Crew Dusty Red
Are you in love like I am? I know you are, so I bring good news. You don't have to wait a minute longer to buy a fluffy, faux fur coat in order to bring that muppet realness. Options abound right now and below are just a few easily found pieces at ASOS to get you thinking about your #muppetchic selfie.
ASOS Faux Fur Coat with Oversized Collar, $83, asos.com
Whistles Kumiko Faux Fur Coat, $327, asos.com
Monki Faux Fur Coat, $97, asos.com
Story of Lola Faux Fur Coat with Colour Block Arm Detail, $156, asos.com
ASOS Faux Fur Longline Coat, $77, asos.com
Unreal Fur De-Fur Coat in Dusty Pink, $248, asos.com
For a while, it seemed like there was nothing good that could come of the frozen tundra that is winter 2015, but even the worst situations have a silver lining. Enter NYFW and #MuppetChic — we may be frozen, but now we are a fuzzy, fluffy and having fun in our monster-like furs.